The Suns plan to waive point guard Chris Paul, whose $30.8MM contract for 2023/24 is partially guaranteed at $15.8MM, sources tell Chris Haynes of Bleacher Report and TNT (Twitter link).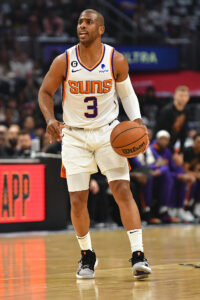 In a recent podcast appearance with Zach Lowe, ESPN's Brian Windhorst suggested the Suns might waive Paul instead of guaranteeing the remainder of his salary. He also predicted Paul would still be on the roster next season (YouTube link).
"Stretch Chris Paul?" asked Lowe (hat tip to RealGM)
"There are other things that can be done," said Windhorst.
"I might be dumb, but I think Chris Paul is still good," replied Lowe.
"I think Chris Paul will be a Sun next year, but what if he's a Sun and they don't have to pay him $30 million," said Windhorst.
As Yossi Gozlan of HoopsHype tweets, the Suns could stretch Paul's $15.8MM cap hit over five years, which would equal $3.16MM annually. However, if they go that route, they would be ineligible to re-sign Paul over that same time frame.
If they simply release his contract and he clears waivers, Paul will become an unrestricted free agent and able to sign with any team, including Phoenix. In a thin free agent market, he will be one of the best players available, despite his advancing age (he turned 38 last month).
As we noted in our Offseason Preview, if the Suns were to guarantee Paul's salary, they would have been in danger of exceeding the second tax apron, which is a pseudo-hard cap in the new CBA. Waiving (or waiving and stretching) Paul would make it easier to stay below that threshold and give Phoenix more options to work with, but the team would also risk losing him for nothing.
The 12-time All-Star plans to play "several" more seasons and is enthusiastic about helping a team contend for a title, according to Haynes (Twitter link). Haynes reported last month that the Suns were considered likely to guarantee the remainder of Paul's contract, but obviously there was a change of plans.
Paul is coming off another disappointing playoff exit that was related to injuries. This time, he suffered a left groin strain in Game 2 of the Western Conference semifinals against the Nuggets that sidelined him for the rest of the series.
Paul, who has led the league in steals six times and assists five times, is widely considered one of the greatest point guards in NBA history, as well as one of the best players to have never won a championship. In his first season with Phoenix back in '20/21, he helped the team reach the Finals, ultimately falling to the Bucks in six games.
In 59 regular season games (32.0 minutes) in '22/23, he averaged 13.9 points, 8.9 assists, 4.3 rebounds and 1.5 steals on .440/.375/.831 shooting. He holds career averages of 17.9 points, 9.5 assists, 4.5 rebounds and 2.1 steals on .472/.369/.870 shooting in 1214 games (34.4 MPG).