The NBA's 2023 free agent period will tip off at 5:00 pm Central time on Friday, June 30. And while a handful of opt-ins (James Harden and Josh Hart) and extensions (Nikola Vucevic, Harrison Barnes, and Naz Reid) in recent days have taken some notable names off the market, there are still dozens of available players whose decisions will reshape NBA rosters this summer.
Listed below are our top 50 free agents for the 2023/24 NBA season.
Our rankings take into account both a player's short-term and long-term value, and are essentially a reflection of what sort of contract we expect them to sign. If we were to consider solely a player's worth for the 2023/24 season, veterans like Brook Lopez and Eric Gordon would place higher, while younger free agents with upside, such as Ayo Dosunmu or Paul Reed, would be ranked lower — or perhaps not at all.
In addition to the players listed below, there are plenty of other free agents available this summer. You can check out our breakdowns of free agents by position/type and by team for the full picture.
Here are our top 50 free agents of 2023:
---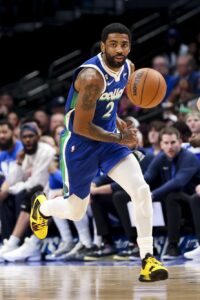 1. Kyrie Irving, G, Mavericks
There are red flags galore for Irving, whose availability has been compromised in recent years by both health issues and personal decisions. However, his career résumé on the court – including eight All-Star nods, a championship, and a scoring average of 27.1 PPG on .491/.395/.914 shooting over the last four seasons – is strong enough to earn him the top spot on this list. At age 31, Irving still has some prime years left, and as long as he's available, there's no reason to believe he won't be among the NBA's best scorers going forward. His reputation and his apparent lack of viable suitors may limit his leverage in negotiations with the Mavericks, but he's one of the only players in this market capable of landing a deal worth $40MM+ per year.
2. Fred VanVleet, G, Raptors
VanVleet is coming off a down season, having made a career-worst 34.2% of his three-point attempts in 2022/23 as his defense also took a step back. But he's still just 29 years old, so potential suitors may chalk his off year up to nagging injuries and bad luck rather than assuming it's the beginning of a downward trend. VanVleet's inability to finish around the rim is a concern, but when he's at his best, he's an excellent shooter (he had a .382 career 3PT% entering last season) who plays dogged defense and sets up his teammates (7.2 APG in 2022/23). He turned down an option worth nearly $23MM and could exceed $30MM on a multiyear deal.
3. Jerami Grant, F, Trail Blazers
A big, versatile forward who can guard multiple positions on defense, Grant is also coming off the best offensive season of his career. In averaging 20.3 points per game and knocking down 40.1% of his threes, Grant combined the scoring prowess of his two seasons in Detroit with the shooting efficiency of his Oklahoma City and Denver years. He reportedly turned down a four-year extension worth nearly $113MM, which suggests he's confident he can get either more money or a fifth year – or maybe both – as a free agent. There's an expectation that he'll be back with the Trail Blazers as long as they don't pivot to a rebuild.
4. Khris Middleton, F, Bucks
One of the NBA's most underappreciated players for years, Middleton averaged at least 20 points in four of five seasons and made three All-Star teams from 2017-22. Unfortunately, his contract year was a forgettable one, with Middleton limited to 33 games due to injuries as his scoring rate (15.1 PPG) and shooting percentages (.436 FG%, .315 3PT%) dipped significantly. The 31-year-old looked more like himself in five playoff games (23.8 PPG, 6.4 RPG, 6.2 APG, .465/.406/.867 shooting) and felt confident enough about his earning potential this summer to decline a player option worth more than $40MM. I don't expect him to match that starting salary on a new deal, but if he ends up signing a long-term contract, the total value should be in the nine digits.
5. Cameron Johnson, F, Nets (RFA)
With rumors percolating that the Pistons are seriously considering a bid for Johnson, the Nets forward could be the beneficiary of a bidding war that pushes his next contract well beyond the four-year, $90MM deal that his teammate and "twin" Mikal Bridges received. At 27, Johnson is older than most players coming off a rookie scale contracts, but he has continued to improve in each of his four seasons in the league, increasing his scoring average every year and evolving into one of the NBA's most reliable shooters (41.6% on threes over the last two seasons).
6. Draymond Green, F/C, Warriors
Green's upcoming free agency reminds me a little of Al Horford hitting the market in 2019. Like the current iteration of Green, 2019 Horford was considered a major defensive asset but didn't score much and had just turned 33. Four years ago, the Sixers swooped in with a four-year, $97MM offer to lure Horford away from the division-rival Celtics. Is there a team out there planning a similarly aggressive push for Green? For what it's worth, Horford later admitted that he probably should've just re-signed in Boston, where he was most comfortable and where he eventually returned. I expect Green to avoid that same mistake and simply re-up with the Warriors.
7. Jakob Poeltl, C, Raptors
In a subpar free agent market for centers, Poeltl stands out as the top target for any team seeking a traditional big man. He doesn't shoot three-pointers and isn't as switchable as you'd want a modern center to be, but Poeltl is a talented rim protector and a solid pick-and-roll partner who can score around the basket — he's also just 27 years old. It will likely take a long-term commitment of over $20MM annually to have a chance to pry him away from the Raptors, who gave up a first-round pick for him at February's trade deadline.
8. Miles Bridges, F, Hornets (RFA)
It's impossible to know exactly how the Hornets and the rest of the NBA will value Bridges, who sat out the entire 2022/23 season after facing a felony domestic violence charge. He agreed to a plea deal and was subsequently suspended by the NBA, who will require him to sit out the first 10 games of next season. Prior to that incident, Bridges was viewed as one of the top free agents of the 2022 class, having averaged 20.2 PPG, 7.0 RPG, and 3.8 APG on 49.1% shooting in 80 games (35.5 MPG) in 2021/22. As valuable as Bridges can be on the court, the repugnant behavior he was accused of away from it should give suitors pause about inviting him to represent their franchise. A return to Charlotte is the most likely path for the RFA forward.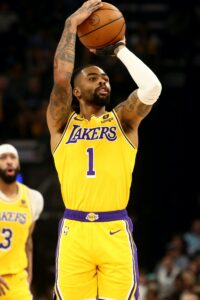 9. D'Angelo Russell, G, Lakers
Russell's poor showing in the playoffs left a sour taste and has resulted in several rounds of rumors this offseason about possible point guard alternatives for the Lakers. But Russell's value shouldn't be understated. He was an extremely productive offensive player during the 2022/23 regular season, averaging 17.8 PPG and 6.2 APG with a .469/.396/.829 shooting line. The Lakers had a plus-12.2 net rating during D-Lo's 526 minutes of action down the stretch, easily the best mark of anyone on the roster for the season. Russell, who is still just 27 years old, almost certainly won't match the $31MM+ he earned in 2022/23, but given the price tags for starting point guards around the NBA, it's hard to imagine him signing for less than about $20MM per year.
10. Kyle Kuzma, F, Wizards
Kuzma decided early in the 2022/23 season that he'd be declining his $13MM player option in order to seek a bigger payday in free agency. Given that he averaged a career-high 21.2 PPG to go along with 7.2 RPG and 3.7 APG, that was probably the right call. But with the Wizards in the process of rebuilding, Kuzma's best bet for a big raise may be off the board. There are other teams with cap room and a need for a forward – the Pacers are one – so Kuzma should still do fine on the open market, but it no longer looks like Washington will be eager to overpay him to stick around.
11. P.J. Washington, F, Hornets (RFA)
Washington returned to the Hornets' starting lineup on a full-time basis in 2022/23 and set a career high in points per game (15.7). While his three-point percentage dipped a little, he has still made 36.6% of his attempts from beyond the arc over the course of his four-year career, making him a quality stretch big who probably fits best at power forward but has the strength to function as a small-ball five. Washington will turn 25 in August, so there may be more room for him to continue to grow, but even the current version is probably looking at an annual salary of $15-20MM on his next deal.
12. Austin Reaves, G, Lakers (RFA)
Reaves, who joined the Lakers as an undrafted rookie in 2021, broke out in a major way in 2022/23, averaging 13.0 PPG, 3.4 APG, and 3.0 RPG with an excellent .529/.398/.864 shooting line in 64 regular season games (28.8 MPG). He was a full-time starter in the postseason and played even better, putting up 16.9 PPG, 4.6 APG, and 4.4 RPG on .464/.443/.895 shooting in 16 contests (36.2 MPG). Because he only has two years of NBA experience under his belt, Reaves will be an Arenas provision free agent, meaning his earnings are capped at about $102MM across four years. The Lakers will have the ability to match any offer he gets, but will only be able to directly offer about $54MM over four years. The big question is whether a rival suitor will make life difficult on L.A. by giving Reaves a big, back-loaded offer sheet or whether the Lakers will be able to lock him up without any other clubs getting involved.
13. Caris LeVert, G/F, Cavaliers
When the Cavaliers first acquired LeVert in 2021, they envisioned him as a scorer and play-maker who would frequently have the ball in his hands. Following the emergence of Darius Garland and the acquisition of Donovan Mitchell, Cleveland asked him to play off the ball more in 2022/23, an adjustment which was reflected in his statistics — LeVert's 18.7% usage rate was easily his lowest since his rookie year, and his 12.1 points per game were well below the 18.5 PPG he averaged across the three previous seasons. Still, teams know what LeVert is capable of, and his .392 3PT% last season was a career high. Another deal in the range of his expiring three-year, $52.5MM contract seems within reach.
14. Bruce Brown, G/F, Nuggets
A jack-of-all-trades on both sides of the ball, Brown has been undervalued in his last two forays into free agency, but is finally getting his due after playing a key role for the champion Nuggets in 2022/23. Unfortunately, Denver only holds Non-Bird rights on Brown and will be limited to offering a 20% raise, which works out to a starting salary of $7.8MM. He has expressed a desire to stay in Denver, telling reporters after the title win that "money isn't everything," but it's not nothing either, and there will be plenty of teams willing to give him more of it than the Nuggets can. If Brown remains with the champs, expect a one-plus-one contract that allows him to opt out in 2024 to cash in on a longer-term deal.
15. Brook Lopez, C, Bucks
If Lopez were 10 years younger, he'd have a legitimate case to be placed atop this list, since rim-protecting big men who can stretch the floor are among the most valuable assets in today's NBA. Lopez certainly fits the bill, having finished second in Defensive Player of the Year voting while making 37.4% of his threes this past season. At age 35, and with a history of back issues, he may be hard-pressed to secure more than two guaranteed seasons, but after his big 2022/23 campaign, he should at least be well compensated in the short term.
16. Max Strus, G, Heat
Strus doesn't have a lengthy track record of NBA success, and he struggled to produce in the Heat's final two playoff series vs. Boston and Denver this spring. But he emerged as an important rotation player in Miami over the last two seasons, averaging 11.1 PPG and hitting 37.6% of his outside shots since the start of 2021/22. The 27-year-old seems poised to be a popular target on the free agent market, with multiple reports indicating he could receive offers worth more than the full mid-level exception.
17. Rui Hachimura, F, Lakers (RFA)
The Wizards reportedly offered Hachimura approximately $12-14MM per year when he was extension-eligible last fall; the forward, who was seeking a deal in the range of $60MM over four years, passed. Hachimura's numbers fell off a little following his midseason move from D.C. to L.A., but he reasserted his value in the playoffs with a blistering .557/.487/.882 shooting line across 16 postseason appearances. There's no reason to think he won't be looking for $15MM+ annually again as a restricted free agent — it will be fascinating to see how high the Lakers are willing to go, especially if they expect to trigger a hard cap.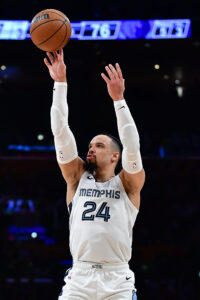 18. Dillon Brooks, F, Grizzlies
There are many flawed NBA players whose shortcomings aren't as glaring as Brooks'. His physical play and his tendency to talk trash resulted in multiple one-game suspensions last season, and his eagerness to let three-point shots fly (6.0 attempts per game) despite not making enough of them (32.1% in the last two seasons) can be frustrating to watch. But Brooks still has real value as a tenacious perimeter defender and a secondary play-maker. If he can find his three-point stroke again (he hit 35.3% in his first four NBA seasons) and dial back his antics a couple notches, the 27-year-old can still have a long, profitable NBA career as a three-and-D wing. It just sounds like that won't happen in Memphis.
19. Grant Williams, F, Celtics (RFA)
It was an up-and-down contract year for Williams, who saw his role fluctuate and played through a hand injury from March onward. His overall numbers, including a career-high 8.1 PPG and 4.6 RPG, still stack up favorably to his first three NBA seasons, and at age 24, his prime years are still ahead of him. As with Hachimura, the extension offer Williams declined last offseason will likely inform what sort of deal he seeks this summer — he was reportedly offered up to $50MM in guaranteed money over four years, but was after at least $14MM per year. I have to think the Celtics is prepared at least to match any offer sheet worth the full mid-level (approximately $53MM for four years).
20. Donte DiVincenzo, G, Warriors
DiVincenzo got less than I expected a year ago when he reached free agency, settling for a $4.5MM salary with Golden State. However, he seems to have boosted his stock over the last 12 months by averaging 9.4 points, 4.5 rebounds, 3.5 assists and 1.3 steals in 26.3 minutes per game with the Warriors while also bumping his three-point percentage to a career-best 39.7%. DiVincenzo will receive mid-level interest from multiple teams, including the Knicks — recent reports have indicated that a reunion with former Villanova teammates Jalen Brunson and Josh Hart is very much in play.
21. Herbert Jones, F, Pelicans (RFA)
It's not unusual for a club to decline a team-friendly option on an important player in order to make him a restricted free agent if the alternative is picking up the option and setting him up for unrestricted free agency a year later. It is unusual, however, for a club to take the route the Pelicans did with Jones, turning down a minimum-salary option even though he'd still be a restricted free agent a year from now if that option had been exercised. New Orleans must have a very good sense of what it will take to re-sign the defensive dynamo, which presumably means the team doesn't expect to face an Arenas provision offer sheet from a rival suitor. Perhaps the Pelicans believe in Jones' ability to unlock his offensive game in 2023/24 and want to sign him to a long-term deal before his value rises even further.
22. Tre Jones, G, Spurs (RFA)
A point guard who can't hit outside shots, Jones is a rarity in today's NBA, and his lack of floor-spacing ability hurts his value a little. But he has proven he's capable of doing many other things well, emerging as more of a scorer (12.9 PPG) and play-maker (6.6 APG) this past season after claiming the Spurs' starting point guard job. Jones is still just 23 years old and is a career 83.7% free throw shooter, which bodes well for the continued improvement of his three-point shot. I expect San Antonio to lock him up to a multiyear deal worth eight figures annually.
23. Gabe Vincent, G, Heat
The Heat didn't expect Vincent to play such a significant role in their backcourt, but he emerged as the starting point guard in February following an injury to Kyle Lowry and hung onto that job throughout Miami's run to the NBA Finals, acquitting himself particularly well in the postseason — he averaged 13.8 PPG and shot .438/.426/.909 in the Heat's final two series vs. the Celtics and Nuggets, despite spraining his ankle vs. Boston. A new deal worth about $10MM per year seems about right for Vincent.
24. Russell Westbrook, G, Clippers
Westbrook will turn 35 this year and had to settle for a rest-of-season, minimum-salary contract with the Clippers after agreeing to a buyout with the Jazz. Veterans can sometimes be pigeonholed as minimum-salary players once they accept that sort of deal for the first time, but Westbrook's strong play with the Clippers (15.8 PPG, 7.6 APG, 4.9 RPG, .356 3PT%) should help him generate at least mid-level interest. If he wants to return to the Clips, however, he'll probably have to accept a deal worth about $3.8MM, which is the most L.A. can offer using his Non-Bird rights.
25. Christian Wood, F/C, Mavericks
Few NBA big men are better at getting the ball in the basket than Wood, who has averaged 18.1 points in just 29.3 minutes per game across the last three seasons. He's also a very good rebounder, grabbing 8.9 boards per night during that same stretch. However, he fell out of favor in Dallas due to his defensive shortcomings, which any potential suitor will have to take into account as they weigh a contract offer. For a team that has the personnel necessary to pair him with a reliable frontcourt defender, Wood could be a savvy investment.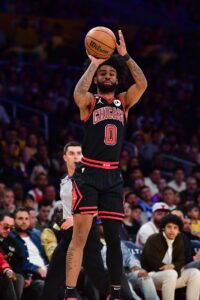 26. Coby White, G, Bulls (RFA)
White averaged career lows in points (9.7) and minutes (23.4) per game in 2022/23, but made strides as a ball-handler and defender while continuing to serve as one of the Bulls' most consistent outside shooters. The team was much better when he was on the court (plus-4.0 net rating) than when he was off it (minus-0.5), and his combination of age and NBA experience make him an intriguing candidate for further growth. Among the free agents who are 23 or younger in 2023, none have played in more regular season games than White's 269.
27. Kelly Oubre, F, Hornets
Oubre averaged a career-high 20.3 points per game in 48 appearances this past season, but he didn't get those points efficiently and any team that signs him probably won't expect him to take nearly as many shots per night (17.1) as he did in Charlotte in 2022/23. The 27-year-old's shot has been inconsistent, but he can score inside the arc and around the basket, and he's a switchable defender and solid rebounder for his position. No one will break the bank for Oubre, but he should receive consideration from teams with the full mid-level available.
28. Josh Richardson, G/F, Pelicans
Richardson isn't a lights-out shooter or a shut-down defender, but he's capable enough in both areas to the game to be considered a genuine three-and-D wing, which should give him plenty of value on the open market. He has earned annual salaries in the $9-12MM range in each of the last five seasons and is still just 29 years old, so he should be in line for something in the same neighborhood going forward.
29. Eric Gordon, G
Note: Gordon will be on waivers when free agency opens.
Gordon, 35 in December, won't be as hot a commodity in free agency this year as he would've been if he'd hit the market two or three years ago. But the veteran guard remains a threat from (way) beyond the three-point line and is an effective secondary ball-handler. He also holds his own on defense — he's only 6'3″, but he's stout enough to guard either backcourt spot and to switch onto forwards if necessary. At this stage in his career, Gordon may be willing to take a discount to join a contender, but he should be able to earn well above the minimum if that's his priority.
30. Dennis Schröder, G, Lakers
Schröder's shooting numbers in 2022/23, including a 41.5% field goal percentage, were well below his career rates, but he still had a nice year in Los Angeles, in large part because of his improved decision making — his 2.0 turnovers per 36 minutes were by far the best mark of his career. Schröder also played solid defense and was willing to take a back seat on offense, deferring to teammates and attempting just 9.8 shots per night, his lowest average since he was a reserve in Atlanta early in his NBA career. I wouldn't expect the 29-year-old to have to accept another minimum-salary contract.
31. Malik Beasley, G/F, Lakers
Beasley's $16.5MM team option for 2023/24, which the Lakers declined, was too high for what he provides, but there should be plenty of interest at about half that price. While he's an inconsistent defender, Beasley is an asset on offense for his strong three-point rate (37.3% in the last three seasons) at a high volume (8.2 attempts per game during the same period). I'd be a little surprised if he gets a long-term commitment this summer, but he's still just 26 years old, so such a deal would cover his prime years.
32. Matisse Thybulle, F, Trail Blazers (RFA)
One of the NBA's best perimeter defenders, Thybulle has earned two All-Defensive nods during his first four years in the league. He's so good on that side of the ball that all he really needs to do on offense is stand in the corner and hit open three-pointers when the ball comes his way. Thybulle struggled mightily with his offensive game in Philadelphia, but flashed some potential during 22 games in Portland following a deadline trade, making 38.8% of his threes. It's a small sample and won't be enough to convince front offices that he's morphed into a two-way threat, but it's still an intriguing development that the Blazers will hope he can build on.
33. Lonnie Walker, G/F, Lakers
Walker had an up-and-down season with the Lakers, but the end results were good — his 57.0% true shooting percentage was easily a career high, and he was a key contributor in the Lakers' second-round series victory over Golden State, averaging 10.6 PPG in 21.2 MPG off the bench. The athletic 24-year-old wing has earned at least the $6.48MM he made last season, and perhaps a raise on that figure.
34. Jalen McDaniels, F, Sixers
Jalen doesn't have the upside that his brother Jaden in Minnesota does, but Philadelphia's McDaniels is a useful role player whose athleticism allows him to finish around the basket and defend multiple positions. I don't see him earning the full mid-level, but a multiyear deal in the range of $6-8MM per season like Cody Martin and Caleb Martin got last summer seems within reach.
35. Seth Curry, G, Nets
Curry battled injuries and saw his role reduced in 2022/23, as he averaged fewer than 20 minutes per game for the first time since 2018/19 in Portland. He'll turn 33 in August, so health issues will remain a concern going forward, but there simply aren't many players in the NBA – particularly outside of his immediate family – who are better shooters than Curry. He has never made fewer than 40% of his three-pointers in a healthy season and has a career .435 3PT%. He'll keep getting paid for that skill alone.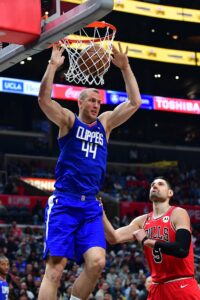 36. Mason Plumlee, C, Clippers
Plumlee isn't much of a scorer, but he does a lot of other things well on the court, including rebounding (8.9 RPG in 26.0 MPG last season) and play-making (3.1 APG). He also has decent mobility for a big man, and when he does look to score, he picks his spots well, having shot 68.0% from the floor in 2022/23. He has earned at least $8MM in each of the last six seasons and is coming off a strong year, so he shouldn't necessarily be preparing to take a pay cut, though at age 33, his odds of securing a long-term contract are slim.
37. Taurean Prince, F
A respected locker-room leader who hits three-pointers and can play either forward position, Prince had been on a non-guaranteed contract with the Timberwolves, who opted not to lock in his $7.45MM salary. Minnesota will gain additional spending power below the tax by shedding the contract, but that's not a bad price for Prince's skill set and it wouldn't be surprising if his next contract with a new team is in the same neighborhood.
38. Ayo Dosunmu, G, Bulls (RFA)
Dosunmu's value is tricky to pin down. He has plenty working in his favor, including his age (23), his defense, and his strong rookie numbers from 2021/22 (8.8 PPG, 3.3 APG, .520/.376/.679 shooting). He didn't take the step forward that he or the Bulls hoped for in '22/23, with his production declining a little across the board despite a similar role. Given that Chicago still tendered him a qualifying offer worth more than $5MM, it appears the team is willing to chalk up last season to a sophomore slump and bet on Dosunmu's continued growth. It'll be interesting to see if another team tests the Bulls' appetite to match an offer sheet or if Chicago will have a free path to negotiate a new deal with the young guard.
39. Jevon Carter, G, Bucks
Carter enjoyed a career year ahead of his free agency this offseason, establishing new personal bests in points (8.0) and assists (2.4) per game while making 42.1% of his three-pointers and playing his usual bulldog defense. He's a good fit in Milwaukee, so a return to the Bucks would make sense, but there may be a rival suitor willing to pursue him more aggressively in the hopes that he can become their Bruce Brown or Gary Payton II.
40. Troy Brown, G/F, Lakers
Brown had a forgettable postseason, which is unfortunate, since it was preceded by the best season of his five-year NBA career. The former 15th overall pick had trouble carving out and hanging onto a consistent role in Washington and Chicago, but made 45 starts and averaged 24.5 minutes per night in Los Angeles, where he emerged as a legitimate three-and-D contributor. Brown, who will turn 24 in July, might make sense as a multiyear investment for a young team in need of inexpensive wing depth.
41. Torrey Craig, F, Suns
Craig started 60 games for the Suns in 2022/23, made his threes (39.5%), and rebounded well for his position (5.4 RPG). His 20-point nights will be few and far between, but Craig is the sort of role player who fits nicely on any contender due to his defensive versatility and the fact that he doesn't need the ball much. Because it took him a while to get his shot in the NBA, he's already 32 years old despite having just six years of service, which will limit his earning potential this summer.
42. Jae Crowder, F, Bucks
It was a roller coaster season for Crowder, who sat out until February due to his dissatisfaction with his situation in Phoenix, then shook off the rust immediately in Milwaukee, knocking down 43.6% of his three-point attempts in 18 regular season games. Unfortunately, his year took one more downward turn, as he submitted a dismal performance in the Bucks' first-round series loss to Miami, scoring just seven points and missing all six of his three-pointers in 41 total minutes of action. That one bad week shouldn't hurt Crowder's value much, given his track record as a reliable rotation player, but he'll turn 33 next week and is unlikely to match the three-year, $29MM contract he signed during his last free agency in 2020.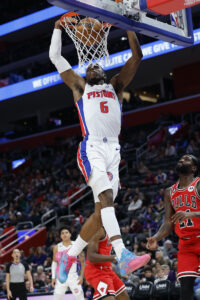 43. Hamidou Diallo, G, Pistons
Diallo is an unorthodox wing, having essentially given up on shooting three-pointers in 2022/23 (he had just 21 attempts in 56 games). He made up for it by converting a career-best 59.3% of his two-pointers, an impressive number for a guard. A good athlete and solid rebounder who has active hands on defense, Diallo saw his minutes per game dip to 17.8 MPG last season and may not be in the Pistons' plans going forward. But he could thrive in the right situation, especially if he gets the chance to play alongside shooters who give him space to operate and get into the paint.
44. Trey Lyles, F, Kings
Lyles has found a home over the last season-and-a-half in Sacramento, where he has assumed a regular rotation role as a stretch four and has played that role well, averaging 8.3 PPG and 4.4 RPG with a .363 3PT% across 98 total games as a King. Because he earned just $2.6MM last season, Lyles' cap hold will be small, which will allow the Kings to hang onto his rights and then go over the cap to sign him to a new contract once they've used up their room. I expect that'll be the plan, and the 27-year-old has a decent chance to double or triple his 2022/23 salary.
45. Nickeil Alexander-Walker, G, Timberwolves
The Timberwolves' decision not to issue a qualifying offer worth $7MM to Alexander-Walker should open up his free agency. It also tells us a little about his market, if Minnesota felt that potentially locking in Alexander-Walker on a one-year deal at that price wasn't prudent. I do still think he could get an annual salary close to that on a multiyear deal, but it will require a team willing to roll the dice on the 24-year-old's upside going forward rather than paying for what he did in his first four NBA seasons.
46. Shake Milton, G, Sixers
Outside of a down year in 2021/22, Milton has been one of the Sixers' steadiest role players across the last four seasons, providing scoring, shooting, and play-making off the bench. At 6'5″, he also has the size to handle a variety of defensive assignments in the backcourt and on the wing. Milton locked himself into a four-year, $7MM contract with the Sixers back in 2019 that is finally expiring. At age 26, he may be eager to cash in as best he can on the open market, whether that's in Philadelphia or elsewhere.
47. Georges Niang, F, Sixers
Niang is one of the NBA's most underrated shooters — like Curry, he has made at least 40% of his three-point tries in every one of his full NBA seasons. He often finds himself targeted on defense and isn't a great rebounder or ball-handler, but those three-pointers are valuable, especially from a player who spends most of his time at power forward. The 30-year-old signed a two-year, $6.8MM contract as a free agent in 2021. I think he can do better this time around.
48. Dwight Powell, C, Mavericks
Powell won't be at the top of any fan's wish list for their favorite team, but clubs in need of a solid frontcourt player with a relatively stable floor could do a lot worse, especially in a weak market for centers. Powell isn't a liability on defense and is a strong rim-runner who has a knack for scoring within a few feet of the basket, having hit 73.2% of his field goal attempts last season. He may not end up back in Dallas, but it's probably safe to assume the Mavs would rather have him than JaVale McGee on the terms of McGee's current deal (two years, $11.7MM remaining)
49. Paul Reed, F/C, Sixers (RFA)
As is the case for Alexander-Walker and a handful of other players on this list, Reed's earning power is more about his untapped potential than his performance to date. Because on paper, his numbers in his contract year (4.2 PPG and 3.8 RPG in 10.9 MPG) look awfully unremarkable. However, Reed – still just 24 years old – continues to figure things out and flashed a glimpse during the postseason of what he might be capable of with a larger role. Filling in for as the Sixers' starting center for injured star Joel Embiid in the last game of the Nets series and the first game of the Boston series, Reed averaged a double-double (10.0 PPG, 14.0 RPG) and was a plus-15 in 69 total minutes.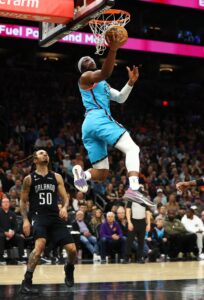 50. Josh Okogie, G, Suns
Although he isn't at the same level as Thybulle as a defender, Okogie bears some similarities to the Trail Blazers forward — his energy and defense gets him on the floor, but his offensive shortcomings and unreliable jump shot often play him off it. Okogie had an impressive stretch in Phoenix this season though, starting 26 of 72 games and bumping his three-point rate above 30% for the first time in five seasons (33.5%). If he can become a player that requires consistent attention from opposing defenses, it will be impossible to keep Okogie out of an NBA rotation.
---
Here are the 10 free agents who narrowly missed the cut, in alphabetical order:
Here are another dozen free agents who received consideration: