Clippers wing Amir Coffey was arrested in Hollywood, California, at approximately 2:30 a.m. Sunday morning for misdemeanor possession of a firearm, according to TMZ (hat tip to Kurt Helin of NBC Sports).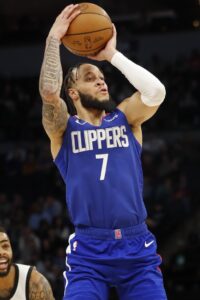 Coffey was a passenger in a vehicle that was pulled over for speeding. When police approached the vehicle, they reportedly smelled marijuana and subsequently searched the car. They found a loaded gun, which Coffey conceded was his.
According to TMZ, the 26-year-old was subsequently arrested for the misdemeanor charge, booked into jail, and released four hours later on his own recognizance. Coffey's court date is scheduled for August.
The Clippers have yet to comment on the matter, Helin notes.
Coffey, who reportedly would have been sent to the Wizards in June in a three-team trade that fell apart at the last minute, has been with the Clippers since he went undrafted in 2019 out of Minnesota.
He had a breakout third season in 2021/22, averaging 9.0 PPG, 2.9 RPG and 1.8 APG on .453/.378/.863 shooting in 69 games (30 starts, 22.7 MPG), which led to him being promoted from a two-way deal to a standard contract in March 2022. He signed a three-year, $11MM contract with L.A. last summer — he'll earn $7.6MM over the next two seasons.
Last season, Coffey struggled to produce at the same level in a limited role. He averaged just 3.4 PPG, 1.1 RPG and 1.1 APG on .386/.275/.778 shooting across 50 contests (nine starts, 12.5 MPG).