JULY 6: The Nets have officially re-signed Johnson, the team confirmed today in a press release.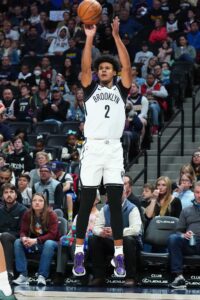 "Re-signing Cam was our top priority throughout this free agency period, and we are thrilled to have him remain in Brooklyn as a core member of the Nets for years to come," Nets general manager Sean Marks said in a statement. "Since the moment he arrived last season, Cam immediately embraced a leadership role both on and off the court. His versatile skillset as a two-way wing has proven to be an ideal fit with our roster, and we look forward to the positive impact he will continue to bring to our team and the Brooklyn community."
---
JUNE 30: Restricted free agent forward Cameron Johnson wasted no time in coming to a contract agreement with the Nets, according to Adrian Wojnarowski of ESPN (Twitter link). Johnson will sign a four-year, $108MM contract to remain in Brooklyn, agent Steven Heumann tells Wojnarowski.
Michael Scotto of HoopsHype clarifies (via Twitter) that Johnson will be able to earn up to $108MM with incentives, so it sounds like the base value of the deal will be a little lower than that.
The 11th overall pick in the 2019 draft, Johnson immediately emerged as a rotation player for the Suns as a rookie and has steadily improved since then, increasing his scoring average in each of his three subsequent seasons.
Johnson, who was dealt from Phoenix to Brooklyn in February's Kevin Durant blockbuster, saw his 2022/23 season debut delayed by a knee injury, but played well after returning, averaging 15.5 points, 4.4 rebounds, and 1.9 assists in 28.5 minutes per night across 42 appearances for the Suns and Nets.
Johnson's shooting is his calling card. His shooting line this past season was an impressive .470/.404/.842, and he has made 39.3% of 5.6 three-point attempts per game over the course of his career. And while he's not an elite defender, he has the size and versatility to guard either forward spot.
The Pistons were rumored to be considering a play for Johnson in free agency, but they reached an agreement with the Nets earlier in the day on Friday to acquire Joe Harris in a trade. That move essentially took the Pistons out of the running for Johnson, since Harris gave them the shooter they sought while taking up a significant chunk of their cap room. The move also gave the Nets more flexibility below the luxury tax line to make a strong offer to Johnson.
With Mikal Bridges locked up for the next three seasons and Johnson secured for the next four, the Nets are poised to build around the two former Suns forward who came over in the Durant trade.