JULY 16: The Celtics have officially signed Banton, the team announced today in a press release.
---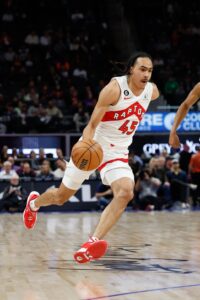 JULY 3: The Celtics will sign free agent point guard Dalano Banton to a two-year contract, tweets Shams Charania of The Athletic. It's likely a minimum deal, and Adam Himmelsbach of The Boston Globe reports that the second season will be a team option (Twitter link).
Banton became an unrestricted free agent last week when the Raptors decided not to tender a qualifying offer.
Toronto selected Banton with the 46th pick in the 2021 draft and signed him for two years. He appeared in 64 games as a rookie, but saw his role decrease in his second NBA season. Banton averaged 4.6 points, 1.5 rebounds and 1.2 assists in 31 games last season and spent part of the year in the G League.
Banton met with Celtics officials shortly after free agency began on Friday. The 23-year-old will provide some backcourt depth for the team, with Marcus Smart heading to Memphis.