JULY 22: Matthews' deal with the Hawks is official, per NBA.com's transactions log.
---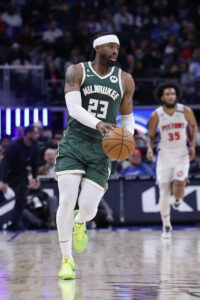 JULY 21: Free agent wing Wesley Matthews has agreed to a one-year deal with the Hawks, tweets Adrian Wojnarowki of ESPN.
Matthews, 36, is joining the Hawks after spending the last two seasons – and three of the last four – with the Bucks. In three seasons in Milwaukee, Matthews averaged 5.5 points and shot 34.6% from beyond the arc. Matthews joins Patty Mills as the second veteran shooter the Hawks have added this offseason.
The Hawks now have 17 players on standard contracts. Guard Tyrese Martin's $1.7MM contract is on track to become fully guaranteed if he's not waived today (unless he agrees to push that guarantee date back) while guard Vit Krejci's $1.8MM contract is non-guaranteed with a Jan. 7 guarantee date.
Just because Martin and Krejci are on non-guaranteed contracts doesn't mean they are necessarily on the chopping block. Atlanta has reportedly been exploring deals involving both Clint Capela and De'Andre Hunter after shipping out John Collins earlier this offseason, so the team could theoretically create more roster spots via trades of Capela, Hunter or other players on the roster, like Garrison Mathews or Bruno Fernando, who each played sparingly after arriving in Atlanta at the trade deadline.
Further, we don't yet know the nature of Matthews' contract with Atlanta. While Wojnarowski reports that Matthews is signing a one-year deal, it will likely be worth the veteran's minimum, and it's unclear whether or not it'll be fully guaranteed.