July 7: The trade is official, both teams announced. The second-rounder heading to Atlanta is conditional. It will be Memphis' 2026 pick and will only convey if it lands between 31 and 42.
---
June 26: The Hawks are trading forward John Collins to the Jazz in exchange for forward Rudy Gay and a second-round pick, according to ESPN's Adrian Wojnarowski.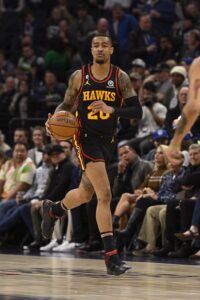 Gay had a $6.48MM player option for 2023/24 that he exercised as part of the deal, his agent Sam Permut of Roc Nation Sports tells Wojnarowski (via Twitter).
Collins had been in trade rumors for multiple seasons, and now he's finally on the move. Utah will be acquiring Collins using cap room, so the deal can't be officially completed until July 6.
It's essentially a salary-dump move to dip under the luxury tax line for Atlanta, much like the Kevin Huerter trade last offseason (the Hawks did get a protected first-rounder for Huerter, but it was mostly to avoid the luxury tax). Collins is owed $78MM over the next three seasons, including a $26.58MM player option in '25/26.
In addition to significant financial flexibility, the Hawks will also generate a $25.34MM trade exception — equivalent to Collins' salary for '23/24 — as part of the deal, Wojnarowski reports. That will be the league's new largest trade exception, surpassing the $18.1MM TPE the Nets created as part of the Kevin Durant deal in February.
Bobby Marks of ESPN clarifies (via Twitter) that the Collins TPE will be created by Atlanta absorbing Gay's salary into an existing trade exception, worth $6.29MM. As Anil Gogna of Thread Sports Management tweets, the new CBA has a $250K allowance for TPEs (as opposed to $100K in the old CBA), which is enough to accommodate Gay's deal.
It's an interesting buy-low acquisition for the Jazz, who already have Lauri Markkanen, Walker Kessler, Kelly Olynyk and first-round pick Taylor Hendricks in their frontcourt.
Collins had a down season in '22/23, averaging 13.1 PPG and 6.5 RPG on .508/.292/.803 shooting in 71 games (30.0 MPG). Still, he's only 25 years old and holds career averages of 15.8 PPG and 8.0 RPG on .551/.356/.783 shooting across 364 games (29.2 MPG). The Jazz will be hoping he can rebuild his value under head coach Will Hardy.
According to Wojnarowski, the two teams have discussed "numerous iterations" of a Collins trade for "over a year," but Atlanta finally decided to move on due to a salary-cap crunch. The Hawks are expected to remain active in trade conversations and GM Landry Fields has ownership's permission to go above the tax threshold if it improves the roster, says Woj.
Atlanta's newfound financial flexibility could be used to negotiate long-term extensions for Dejounte Murray, Onyeka Okongwu and Saddiq Bey, whom Wojnarowski refers to as "core players."
Gay was a very good player for a long time, but age and injuries seemed to catch up with him last season. He posted career lows in points (5.2), rebounds (2.9) and minutes (14.6) per game in 56 appearances. He's about to enter his 18th season and will turn 37 in August.