JULY 7: The trade is official, the Knicks announced today in a press release (Twitter link). Toppin has been traded into the Pacers' cap room in exchange for the two second-round picks described below.
---
JULY 6: The Knicks will receive either the Suns' or Pacers' 2028 second-round pick (whichever is least favorable) and either the Pacers' or Wizards' 2029 second-round pick (whichever is least favorable) for Toppin, reports Dustin Dopirak of The Indianapolis Star (Twitter link).
---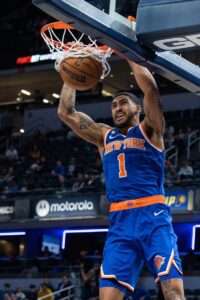 JULY 1: The Knicks and Pacers are finalizing a trade that will send forward Obi Toppin to Indiana, reports Adrian Wojnarowski of ESPN (Twitter link).
According to Wojnarowski, the Knicks will acquire a pair of second-round picks in exchange for Toppin, who was the eighth overall pick in the 2020 draft.
Marc Stein and Ian Begley of SNY.tv reported prior to free agency that the Pacers were talking to the Knicks about Toppin and had emerged as the leading candidate to land him. It's a logical fit, since Indiana has the cap room necessary to acquire the 25-year-old's $6.8MM expiring contract without sending out any salary and has been in the market for another power forward.
While lottery pick Jarace Walker figures to see minutes for the Pacers as a rookie, Toppin should have an opportunity to play a bigger role in Indiana than he did in New York, where he spent the majority of his first three NBA seasons backing up Julius Randle.
In 139 games for the Knicks since the start of 2021/22, Toppin has averaged 8.2 PPG and 3.3 RPG on .491/.329/.772 shooting in 139 games (16.4 MPG). He'll be eligible for a rookie scale extension this offseason, or restricted free agency in 2024 if he doesn't sign a new deal before then.
It's a somewhat disappointing outcome for the Knicks, whose lottery pick from three years ago will now turn into a pair of second-rounders. However, the move will help create some additional spending flexibility below the tax apron for the club, potentially opening up the full mid-level exception. It'll also generate a $6.8MM trade exception and contribute a couple more draft assets to New York's ever-growing stash.