JULY 6: The Clippers have officially completed their new deal with Plumlee, per NBA.com's transaction log.
---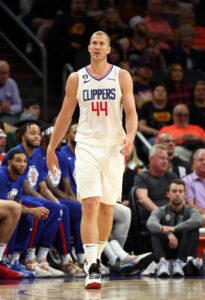 JULY 3: Mason Plumlee is re-signing with the Clippers on a one-year, $5MM contract, agent Mark Bartelstein tells ESPN's Adrian Wojnarowski.
A longtime NBA center, Plumlee was an unrestricted free agent after his three-year, $25MM deal expired at the end of 2022/23.
He'll be taking a pay cut to return to Los Angeles after making $9.08MM in 2022/23. According to Wojnarowski, the veteran received more lucrative offers from rival suitors in free agency.
The 22nd pick of the 2013 draft, Plumlee has played for the Nets, Trail Blazers, Nuggets, Pistons, Hornets and Clippers over the course of his 10 NBA seasons. He was having a strong season with Charlotte in '22/23, averaging 12.2 PPG, 9.7 RPG and 3.7 APG in 56 games (28.5 MPG) as a full-time starter, before being sent to L.A. at the February trade deadline.
Plumlee's role was slightly diminished playing behind Ivica Zubac, but he still brought solid production and size off the bench, averaging 7.5 PPG, 6.9 RPG and 1.7 APG in 23 regular season games (19.9 MPG). Overall, he shot a career-best 68% from the field last season.
A report last week stated that the Clippers might be open to moving Zubac and were comfortable having Plumlee as the starting center. It remains to be seen if that will transpire, but he's a nice insurance policy to have either way.
The Clippers are one of the league's top spenders, far above the luxury tax line. However, they held Plumlee's Bird rights, so they were able to pay him more than the veteran's minimum.
As ESPN's Bobby Marks notes (via Twitter), the Clippers now have 16 players on standard contracts, including Jason Preston, whose contract is non-guaranteed. The young guard recently agreed to push back his salary guarantee date until July 18.
Plumlee was No. 36 on our list of this summer's top 50 free agents.