JULY 12: The Mavericks, Celtics, and Spurs have put out press releases officially confirming that their three-team deal is official. The terms of the deal are as follows: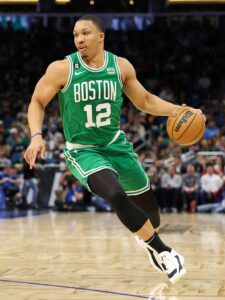 Mavericks acquire Williams (via sign-and-trade), the Spurs' 2025 second-round pick, and the Spurs' 2028 second-round pick.
Spurs acquire Bullock and the right to swap 2030 first-round picks with the Mavericks.
Celtics acquire either the Pelicans' or Bulls' 2024 second-round pick (whichever is more favorable; from Spurs), the Mavericks' 2030 second-round pick, and the right to swap the most favorable of the Wizards', Warriors', and Pistons' 2025 second-round picks with the Mavericks' 2025 second-round pick.
---
JULY 5: The Mavericks, Celtics and Spurs are finalizing a three-team trade that will send restricted free agent forward Grant Williams to Dallas, sources tell Shams Charania of The Athletic (Twitter links).
According to Charania, the Spurs will receive Reggie Bullock and an unprotected 2030 pick swap from the Mavs, while the Celtics will receive multiple second-round picks.
Charania hears Williams will receive a four-year, $54MM contract as part of the transaction, while ESPN's Adrian Wojnarowski has heard (via Twitter) it's $53MM. The deal is fully guaranteed and does not feature any options, sources tell Michael Scotto of HoopsHype (Twitter link).
The Celtics and Mavericks will each receive two second-rounders as part of the trade, Wojnarowski reports (Twitter link). According to Adam Himmselsbach of The Boston Globe, the Celtics will also receive a 2025 second-round pick swap (Twitter link).
Interestingly, the reported figure Williams will receive is the value of the non-taxpayer mid-level exception, which will be worth $53.34MM over four years. However, since the Mavs are acquiring him via sign-and-trade, they will preserve their MLE and still have "strong interest" in using it to sign restricted free agent Matisse Thybulle to an offer sheet, per Marc Stein (Twitter links). Dallas will be hard-capped at the first luxury tax apron due to the sign-and-trade, Stein notes.
ESPN's Bobby Marks has a detailed list of the cap complications from the deal (via Twitter). The Mavs are approximately $9MM below the first apron, so they'll have to clear some additional cap space to have access to the full MLE, which starts at $12.4MM in 2023/24.
They could open up an additional $3.4MM — the exact difference between those two figures — by releasing JaVale McGee and using the stretch provision on his contract, Marks adds. Dallas will also generate a $10.5MM trade exception, equivalent to Bullock's outgoing salary.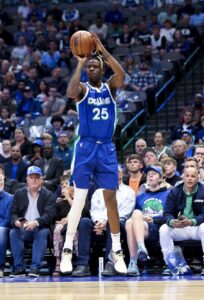 The Celtics, meanwhile, will create a $6.2MM trade exception of their own, which is half of Williams' projected salary. It would have cost Boston $40MM against the luxury tax to pay Williams' salary, per Marks.
As for the Spurs, they'll use some of their cap room to accommodate Bullocks' $10.5MM salary, according to Marks, who notes they'll have about $12.5MM in space remaining after the deal.
Himmelsbach was the first to point out (via Twitter) that Williams' contract is right in the ballpark of what he was rumored to be seeking in an extension before the '22/23 season started. Jared Weiss of The Athletic hears (Twitter link) the Celtics were willing to meet Williams' asking price in the fall, but only if the deal included incentives.
Williams, 24, just completed his rookie scale contract and hit restricted free agency after four seasons with Boston. He turned himself into a valuable 3-and-D player in recent years, playing an important role in helping the Celtics make the Finals and Eastern Conference finals the past two seasons.
Since the start of '21/22, Williams averaged 8.0 PPG and 4.1 RPG on .464/.403/.829 shooting in 156 games (44 starts, 25.1 MPG). His versatile defense was particularly essential in the postseason, and he could be a nice complementary fit next to Luka Doncic and Kyrie Irving, who aren't known for their play on that end. It's also worth noting that Williams is from Houston, about 240 miles from Dallas.
Veteran wing Bullock, 32, is another 3-and-D player who often guards top perimeter players, though his defense slipped a bit last season to my eyes (Bullock's 116.5 defensive rating was 0.4 worse than the team's 25th-ranked D at 116.1). He has been a rotation regular over the past two seasons for Dallas and is a career 38.4% shooter from behind the arc.
As Marks noted, paying Williams would have been exorbitantly expensive, but he will be missed. His departure seemed likely after the Celtics acquired Kristaps Porzingis and his $36MM deal in a trade. They'll reportedly receive some draft compensation to try and recoup some value in the sign-and-trade (they were rumored to be looking for a first-round pick).