Restricted free agent Paul Reed has signed an offer sheet with the Jazz worth $23MM over three years, according to ESPN's Adrian Wojnarowski. The Sixers will have until 11:59 p.m. on Sunday to match the offer if they want to keep Reed.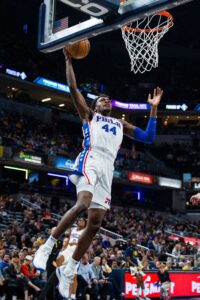 Sources tell Wojnarowski that the offer contains a unique provision that guarantees the first season of the new contract, while the other two will only become guaranteed if his team reaches the conference semifinals in 2023/24. That would total $15.7MM over two years, and Wojnarowski points out that Philadelphia is much more likely than Utah to advance in the playoffs during the upcoming season.
Woj also notes that the Sixers will exceed the $165MM luxury tax threshold if they match Reed's offer, which would cost them an estimated $14MM in tax penalties. Reed would have the option to veto trades for a year if he stays with Philadelphia.
The Jazz will use their $7.7MM room exception to complete Reed's offer sheet, tweets Bobby Marks of ESPN. He points out that Utah used its cap space in its trade for John Collins and its renegotiation-and-extension with Jordan Clarkson, whose salary for 2023/24 rose from $14.3MM to $23.5MM.
Reed saw his role expand in his third NBA season as he averaged 4.2 points and 3.8 rebounds in 69 games. He emerged as the primary backup to Joel Embiid as the season wore on and appeared in all 11 playoff contests.
The Sixers are re-signing Montrezl Harrell and are adding free agent center Mohamed Bamba, so Reed's role might not be as secure if he stays in Philadelphia for another season.