5:12pm: Dowtin has officially re-signed with the Raptors, per a press release from the team.
---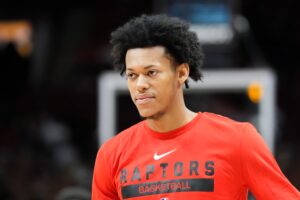 3:25pm: Guard Jeff Dowtin Jr. is inking a training camp contract with the Raptors, reports Shams Charania of The Athletic (Twitter link).
Though terms of the agreement have yet to be divulged, sources inform Charania that, should Dowtin qualify for the club's standard roster on opening night, he would earn "a significant salary guarantee."
Dowtin had been a two-way restricted free agent after Toronto extended a qualifying offer his way.
The 6'3″ point guard has bounced around the league since going undrafted out of Rhode Island in 2021. Prior to his Raptors run, he suited up for limited stints with the Warriors, Bucks and Magic in 2021/22.
Dowtin finished his 2022/23 season with the Raptors on a two-way contract. Across 25 NBA contests, he averaged 2.4 PPG, 1.2 APG and 0.9 RPG. In 19 games for Toronto's NBAGL affiliate, Raptors 905, Dowtin averaged 16.9 PPG on .502/.413/.771 shooting, along with 6.1 APG, 4.2 RPG and 1.7 SPG.
With all of Toronto's two-way slots occupied, a standard spot would be necessary for Dowtin to join the club this year.
Per our two-way contract tracker, the Raptors currently have two players signed to two-way contracts in guard Markquis Nowell and power forward Ron Harper Jr. While it has been reported that the team has also added guard Javon Freeman-Liberty into its third and final two-way vacancy, that agreement is not yet official.