JULY 12: The Raptors have officially signed Schröder, the team confirmed today in a press release.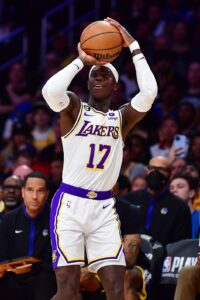 "Dennis is fierce, he's creative, and above all, he's competitive," Raptors president Masai Ujiri said in a statement. "We're excited to welcome Dennis to Toronto, and are looking forward to seeing him on the Scotiabank Arena court."
---
JUNE 30: After losing Fred VanVleet to Houston, the Raptors have moved quickly to add a point guard in free agency. Toronto has agreed to sign Dennis Schröder to a two-year, $26MM contract, agent Mark Bartelstein tells ESPN's Adrian Wojnarowski (Twitter link).
The terms suggest that the Raptors will be signing Schröder using their full non-taxpayer mid-level exception, which would be worth about $25.4MM over two years. The deal is fully guaranteed, per Michael Grange of Sportsnet.ca (Twitter link).
As Yossi Gozlan of HoopsHype tweets, the Raptors are about $10MM below the luxury tax line after the signing, with 14 players on standard deals. Toronto could choose to waive Thaddeus Young's partially guaranteed contract (it's only guaranteed for $1MM but has a total value of $8MM — the guarantee deadline is today) to create more flexibility, but they'll still have the bi-annual exception to work with, Gozlan notes.
Schröder brings plenty of experience to table, having just completed his 10th NBA season. The veteran guard is still only 29 years old, however, and won't turn 30 until September.
The 17th pick of the 2013 draft out of Germany, Schröder spent his first five seasons with the Hawks. He's bounced around quite a bit since then, playing for the Thunder, Lakers (twice), Celtics and Rockets over the past five seasons.
While Schröder isn't a great outside shooter (33.7% from three career), he's solid from mid-range, has a nice teardrop floater, can draw fouls, and is a good pick-and-roll ball-handler. He also played excellent on-ball defense with the Lakers in 2022/23, playing an important role during the club's run to the Western Conference Finals.
Still one of the quickest players in the league, Schröder averaged 12.6 PPG, 4.5 APG and 2.5 RPG on .415/.329/.857 shooting in 66 games (30.1 MPG). Those numbers don't tell the whole story, as the Lakers were much better when he was on the court in both the regular season and the postseason.
Schröder was playing on a minimum-salary deal last season, so he got a nice raise for his solid second stint with Los Angeles.