JULY 12: The trade is official, according to a press release from the Hawks.
The Thunder's press release indicates that OKC is receiving a 2026 second-round pick in the deal. Atlanta previously traded away its own '26 second-rounder, but controlled Golden State's second-rounder for that year, so that's presumably the one headed to the Thunder.
---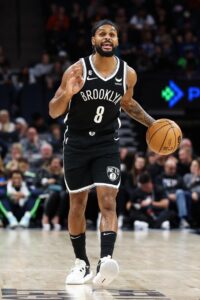 JULY 8: The Thunder have agreed to trade guard Patty Mills to the Hawks in exchange for guard TyTy Washington, forward Rudy Gay, big man Usman Garuba, and a second-round pick, sources tell Adrian Wojnarowski of ESPN (Twitter link).
This trade agreement will likely be separate from the five-team sign-and-trade deal that will send Dillon Brooks to Houston, tweets Yossi Gozlan of HoopsHype.
Mills, Washington, and Garuba – who are all still technically Rockets for the time being – are all expected to be involved in that Brooks trade, with Mills ticketed for Oklahoma City and Washington and Garuba on track to land in Atlanta.
However, they probably can't simply be rerouted to new destinations within the same transaction, since the Thunder don't have the cap room necessary to take on the additional salary, Gozlan notes. OKC would be able to salary-match and go over the cap using Mills ($6.8MM) in a separate deal.
Having initially agreed to take on Washington ($2.3MM) and Garuba ($2.6MM) in a salary-dump trade that netted them two second-round picks, the Hawks will still come out ahead by sending one second-rounder to the Thunder and will shed Rudy Gay's unwanted expiring contract ($6.5MM) in the process.
Atlanta will end up with Mills – who may or may not remain on the roster and play a role in the team's backcourt in 2023/24, per Wojnarowski (Twitter link) – and will save a little money while opening up a couple roster spots. The team is now $8.2MM under the tax line with 16 players on standard contracts, including three on non-guaranteed deals, tweets Gozlan.
Mills almost certainly wasn't in the Thunder's plans — they'd agreed to take him into their cap room as part of the Brooks sign-and-trade in order to acquire a pair of second-round picks. Those picks will be Houston's 2029 and 2030 second-rounders, per Kelly Iko of The Athletic (Twitter link).
It's unclear if the Thunder envision Washington, Garuba, or Gay opening the season on their roster. But even if all three of those players are waived, Oklahoma City will add another second-round pick in this deal, which is presumably the priority.
This will be the third time Mills has been traded this offseason. He was sent from Brooklyn to Houston and will move from Houston to OKC before heading to Atlanta.
A veteran combo guard who will turn 35 next month, Mills was no longer a major part of the Nets' rotation last season — his 14.3 minutes per game represented his lowest average since the 2012/13 season. He recorded 6.2 points and 1.4 assists per game in 40 appearances, with a shooting line of .411/.366/.833.
Garuba was a first-round pick in 2021 and Washington was a first-rounder in 2022, but neither player has established himself as a consistent, reliable NBA player so far. As for Gay, he has compiled an impressive career résumé across 17 seasons in the league, but he'll turn 37 in August, so his best days are behind him.