In a pair of press releases (Twitter links), the Grizzlies officially announced the signings of Shaquille Harrison and GG Jackson II.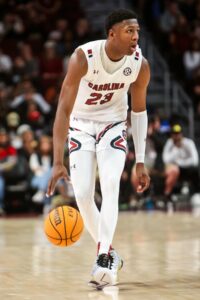 While the terms of Harrison's contract were not disclosed, Memphis has used its third and final two-way opening on Jackson, who was one of the few remaining 2023 draft picks who had yet to ink a contract, as shown by our tracker.
Harrison, 29, is a six-year NBA veteran who was waived by the Lakers in June before his salary for 2023/24 became guaranteed. He had eight brief playoff cameos for the Lakers in 2022/23 after signing on the last day of the regular season. Harrison had just finished a 10-day hardship deal with Portland prior to his stint in L.A.
Overall, the guard has appeared in 180 regular season games with Phoenix, Chicago, Utah, Denver, Brooklyn and Portland, holding career averages of 5.3 PPG, 2.5 RPG, 1.7 APG and 1.0 SPG on .435/.281/.718 shooting in 15.4 MPG. Harrison also signed a 10-day hardship deal with the Grizzlies in '21/22, though he never played a game for Memphis.
Known as a strong defender, Harrison spent the majority of the past two seasons in the G League, winning NBAGL Defensive Player of the Year in '21/22 and finishing third last season. A report last month indicated he was drawing EuroLeague interest, but instead he'll be returning to Memphis.
As Chris Herrington of The Daily Memphian tweets, Harrison could be in line for NBA minutes once the Grizzlies receive an extra roster slot. Memphis will be able to move guard Ja Morant to the suspended list, opening up a 15-man slot, after the fifth game of his 25-game ban.
Jackson was the 45th pick in June after one college season at South Carolina. He was a highly touted prospect entering college and one of the youngest players in his draft class after reclassifying, but had an uneven freshman season for the Gamecocks.
Overall, the 18-year-old averaged 15.4 PPG and 5.9 RPG in '22/23, posting a subpar .384/.324/.677 shooting line in 32 games (31.9 MPG). Damichael Cole of The Memphis Commercial Appeal previously wrote that Jackson would likely receive a two-way deal and spend most of the upcoming season in the G League.
The Grizzlies have reached the offseason maximum of 21 players under contract, and they'll have to make some roster moves ahead of training camp. 17 of their players are on guaranteed standard deals, which means they might have some dead-money cap hits this season unless they make a consolidation trade.