AUGUST 10: Hart's extension is official, the Knicks announced (via Twitter).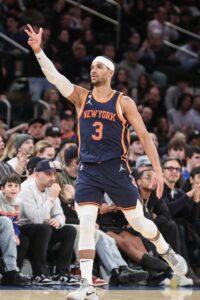 "Josh's immediate impact on our team last season — both on and off the court — cannot be understated. … The leadership and competitiveness Josh brings fits perfectly with the culture we are building," president Leon Rose said.
---
AUGUST 9: The Knicks and forward Josh Hart are finalizing a four-year contract extension worth $81MM, his agents at CAA Basketball tell Adrian Wojnarowski of ESPN (Twitter link).
Hart, who was traded from Portland to New York on February 9, was ineligible to sign an extension that tacked on more than two years to his expiring contract until at least six months after he was dealt. He and the Knicks are wasting no time in getting something done.
According to Wojnarowski (Twitter link), the two sides are working through the final details of an agreement, which can be officially completed as soon as Thursday.
Hart had the opportunity to reach unrestricted free agency this summer by turning down a $12.96MM player option but decided to pick up that option, creating some extra short-term spending flexibility for the Knicks, who took advantage by signing Hart's former Villanova teammate Donte DiVincenzo in free agency.
While the Knicks and Hart may not have had a formal agreement in place at the time he exercised his option, there was likely an understanding that they'd work out a longer-term contract once he became eligible to sign one.
The NBA's new Collective Bargaining Agreement allows Hart to receive a raise of up to 40% on his current salary, with subsequent 8% annual increases. That would work out to a maximum starting salary of $18,144,000 and a four-year total of $81,285,120, which lines up with Wojnarowski's reporting. We'll have to wait to see whether the deal is fully guaranteed or includes any options.
Hart averaged 10.2 points, 7.0 rebounds, 3.6 assists, and 1.4 steals in 30.0 minutes per game across 25 regular season appearances after being acquired by the Knicks at February's trade deadline. He was also an important part of the club's playoff rotation, starting five of 11 games and averaging 32.1 minutes per night.
The 51.9% three-point percentage that Hart posted after the trade is unsustainable, but he's capable of knocking down an outside shot (.350 career 3PT%) and is a talented, versatile defender who is a strong rebounder for his position and size (6'5″). The 28-year-old is considered a good fit for head coach Tom Thibodeau's system, so it's no surprise that the team was eager to lock him up for the long term.
Hart was the only member of Team USA's 12-man roster that didn't play in Monday's exhibition game against Puerto Rico, but he'll likely see some action once he officially signs his new contract. The U.S. team has tune-ups against Slovenia and Spain on tap this weekend, followed by exhibition contests vs. Greece and Germany next week before the World Cup officially tips off later in the month.
Hart's extension will make him ineligible to be traded for six months. That trade restriction won't expire until after this season's deadline, as we detailed on Tuesday.