Kristaps Porzingis, who was traded this offseason from the Wizards to the Celtics, won't suit up for Latvia in the 2023 World Cup, he confirmed today in a post on Twitter.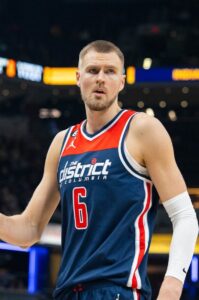 "It is difficult, I feel very responsible to myself and the supporters of the Latvian national team, but a decision has been made that I will not play in the World Cup," Porzingis wrote in Latvian. "After several weeks of recovery and a repeat MRI examination, the plantar fasciitis of my foot still prevents me from being on the field in full readiness.
"This joint decision has been made by both the medical staff and coaching staff of the national team, as well as the Celtics team – with the advice and opinion that it is now necessary to continue the recovery process. Such a decision is not easy to make, but I promise that I will be there and support the team as much as I can."
Reporting last week from Rupert Fabig of BIG Deutschland indicated that Porzingis was dealing with a foot issue and that there were concerns about his availability for the World Cup. The Latvian national team disputed that report at the time, but it appears Fabig's information was accurate.
While it's good news that Porzingis isn't dealing with a significant break or tear in his foot, plantar fasciitis is still a painful ailment that can linger for quite some time. There's no indication yet that the big man's availability for the start of training camp or the NBA regular season is up in the air, but it will be an issue worth monitoring leading up to the fall.
The Celtics acquired Porzingis in a three-team trade that sent Marcus Smart to Memphis after the veteran forward/center picked up his $36MM player option for the 2023/24 season. Boston subsequently signed Porzingis to a two-year extension that will keep him under team control through '25/26.