JUNE 23: The three-team blockbuster is official, according to a press release from the Celtics.
As our draft recap shows, the No. 25 and No. 35 draft picks included in this deal were both flipped to new teams in separate draft-night trade agreements.
---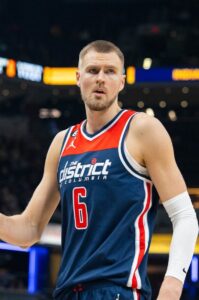 JUNE 21: After their three-team framework with the Clippers was scrapped, the Wizards and Celtics have reached a new agreement to send Kristaps Porzingis to Boston, Adrian Wojnarowski of ESPN reports.
The Grizzlies will also be involved in the revamped three-team deal, with point guard Tyus Jones heading to Washington and Celtics guard Marcus Smart headed to Memphis, per Wojnarowski.
Celtics big men Mike Muscala and Danilo Gallinari will be sent to the Wizards in the trade, according to Adam Himmselbach of The Boston Globe (Twitter links). Muscala has a $3.5MM team option, which will be exercised as part of the deal.
The Celtics will be receiving Memphis' first-round pick (No. 25) and Golden State's top-four protected 2024 first-round pick (via Memphis) for Smart, while the Wizards will acquire No. 35 from Boston for Porzingis.
Although Boston still found a way to acquire Porzingis, who picked up his $36MM player option for 2023/24 as part of the agreement, the incoming and outgoing packages are significantly different than the ones the team discussed with Washington and the Clippers earlier on Wednesday.
Rather than sending out Malcolm Brogdon, the Celtics will lose Smart, the longest-tenured player on the roster who had appeared in nearly 700 total regular season and playoff games for the franchise since 2014. It was widely known that Boston was looking to clear a logjam in its backcourt, but it's a surprise that Smart will be the odd man out rather than Brogdon or Payton Pritchard. Derrick White appears likely to become the new starting point guard in Boston.
According to NBA reporter Marc Stein (Twitter link), the Clippers had concerns over Brogdon's injury status. The veteran guard tore a tendon in his right elbow this year and is reportedly hoping to avoid surgery.
Having agreed to give up Smart instead of Brogdon, the Celtics will acquire a pair of first-round picks in addition to Porzingis, who is coming off perhaps the best season of his career. He averaged 23.2 points, 8.4 rebounds, 2.7 assists, and 1.5 blocks in 65 games (32.6 MPG) in 2022/23, posting a shooting line of .498/.385/.851.
According to Stein, Porzingis is hoping to sign an extension with the Celtics and there's a "strong expectation" that he'll get two years tacked onto his current contract once he becomes eligible for a new deal in July.
Assuming the Celtics hang onto the No. 25 pick, their projected 2023/24 team salary will increase by about $10MM as a result of this deal, pushing their payroll toward the second tax apron, tweets ESPN's Bobby Marks. It will be interesting to see what the financial outlook – and the addition of Porzingis – means for restricted free agent Grant Williams, who is hardly a lock to re-sign.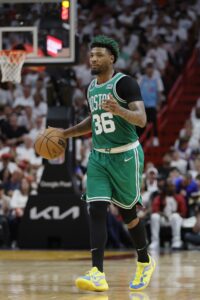 The Wizards, meanwhile, continue their roster reset following the hiring of Michael Winger to run their front office. The team previously agreed to trade Bradley Beal to Phoenix and has focused on avoiding multiyear salary commitments in both deals — Jones ($14MM expiring contract), Gallinari ($6.8MM), and Muscala ($3.5MM) are all on track to reach unrestricted free agency by 2024.
While Gallinari and Muscala look like mere salary-matching inclusions, Jones and the No. 35 overall pick are positive assets.
The Wizards could probably accumulate more draft picks if they were to flip Jones to another team, but it sounds like the plan is to make him their starting point guard in 2023/24, per ESPN's reporting. Monte Morris and Delon Wright are also in that point guard picture for the time being, as is Chris Paul, though he may be traded to a new team or bought out.
It's an especially interesting move for the Grizzlies, who will be without star point guard Ja Morant for the first 25 games of 2023/24 while he serves a suspension. Jones, one of the league's top reserve point guards in recent years, projected to be the starter in Morant's absence, but now that job may belong to Smart.
Besides being able to handle point guard duties, Smart – the 2022 Defensive Player of the Year – will provide the Grizzlies with the sort of perimeter stopper they'll be losing when Dillon Brooks departs in free agency this offseason. As Stein writes, he should also bring some veteran leadership and stability to Memphis' locker room.
Smart will receive a $1MM trade bonus as a result of the deal, according to Marks (Twitter link). That money will be spread out across the remaining years on his contract, slightly bumping his cap hits for each season.
The Grizzlies now project to be about $20MM below next season's tax line, so they should have the full mid-level exception available to spend in free agency if they so choose, Marks adds (via Twitter).
---
Luke Adams contributed to this story.