August 18: Jones is officially a Maverick, the team announced.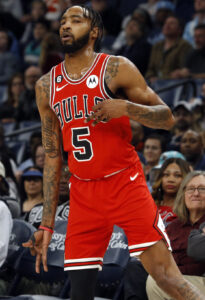 "We are excited to welcome Derrick to Dallas," said GM Nico Harrison. "Derrick has always showcased a team-first approach with his ability to adapt his game to complement his teammates. His versatility on both ends of the floor will allow us to utilize his skillset and athleticism in a variety of different lineups."
---
August 9: Free agent forward Derrick Jones Jr. has reached an agreement with the Mavericks, tweets Shams Charania of The Athletic. It's a one-year deal with a full guarantee, agent Aaron Turner tells Charania.
No other details on the new contract have been released, but Dallas still has $5.4MM of its non-taxpayer mid-level exception remaining, along with its $4.5MM bi-annual exception. Given the lack of information provided by Turner, a veteran's minimum deal may be more likely.
Jones, 26, became a free agent when he declined his $3.36MM player option with the Bulls in June. He was the last remaining player on the open market who turned down his option for the upcoming season.
Chicago acquired Jones in a three-team trade in 2021 and re-signed him to a two-year, $6.56MM contract last summer that included the option. He appeared in 64 games last season, all off the bench, and averaged 5.0 points and 2.4 rebounds in 14 minutes per night.
Jones may find a greater opportunity with the Mavericks, who have revamped their roster this summer with an emphasis on upgrading their defense.
When Jones' signing becomes official, he will be team's 15th standard guaranteed contract. Dallas also has two of its three two-way slots filled, with potential training camp contracts looming for Greg Brown, Joe Wieskamp and Jordan Walker.