The NBA has no shortage of rules affecting which players can and can't be traded at any given time, which complicates our understanding of which players are actually moveable. That's especially true leading up to the regular season, when players who recently signed free agent contracts, extensions, and rookie contracts all face different sets of trade restrictions.
In an effort to clear things up, we're looking today at which players around the NBA are currently affected by trade restrictions of one kind or another. Let's dive in…
---
Recently signed free agents
In most cases, a free agent who signed a contract in the offseason is ineligible to be traded until December 15.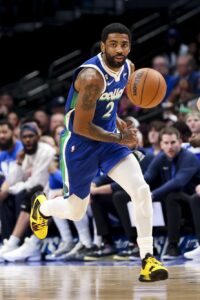 Currently, our list of players who will become trade-eligible on December 15 features 84 names, including several of the guys who signed the biggest free agent contracts of the summer, such as Kyrie Irving, Draymond Green, Khris Middleton, and Fred VanVleet.
But the list is technically even longer than that, since we haven't included players who signed non-guaranteed Exhibit 9 or Exhibit 10 contracts. Most of those players will be waived by opening night, but if they earn spots on regular season rosters, the December 15 trade restriction would apply to them as well.
It's worth noting that Pelicans forward E.J. Liddell falls into this category too, despite not being a free agent this summer. A player who has his two-way deal converted to a standard contract during the offseason, like Liddell did, also doesn't become trade-eligible until December 15 or until three months after the move, whichever comes later.
A select group of players who signed free agent contracts this offseason won't become trade-eligible until January 15. These 18 players all meet a specific set of criteria: Not only did they re-sign with their previous team this offseason, but they got a raise of at least 20%, their salary is worth more than the minimum, and their team was over the cap, using Bird or Early Bird rights to sign them.
A free agent who signs after September 15 won't become trade-eligible until three months after his signing date, as we outlined last week. Markieff Morris, for example, signed with the Mavericks on September 16, so his trade eligibility date will be December 16. Because the 2024 trade deadline is set to land on February 8, a free agent who signs a contract after November 8 won't be trade-eligible this season.
The above rules apply to players who sign standard contracts, not two-way deals. A player who signs a two-way contract is ineligible to be traded for 30 days. So Trent Forrest, who signed with the Hawks last Tuesday, will become trade-eligible on October 12. Two-way players are virtually never traded though.
---
Recently signed draft picks
Like a player who signs a two-way contract, a draftee who signs his first NBA contract is ineligible to be traded for 30 days. Currently, this restriction only impacts Grizzlies second-rounder G.G. Jackson, who signed a two-way contract on August 31 and will become trade-eligible on September 30.
The rest of this year's draftees can currently be traded. That list includes all the players besides Jackson who have signed, since more than 30 days have passed since their officially completed their deals.
It also includes those players who remain unsigned, such as James Nnaji and Tristan Vukcevic, since their draft rights can be traded until they sign their contract. If they officially sign NBA contracts for 2023/24, they'll become trade-ineligible for 30 days.
---
Players with veto ability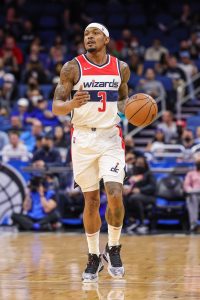 Suns star Bradley Beal is the only NBA player who has a genuine no-trade clause in his contract, but several other players have the ability to veto trades this season due to various quirks of the Collective Bargaining Agreement.
Sixers big man Paul Reed, Trail Blazers forward Matisse Thybulle, Clippers guard Russell Westbrook, and Hornets forward Miles Bridges are some of the notable players whose consent will be required to trade them during the 2023/24 season.
Under the new CBA, a player who would normally meet the no-trade criteria due to re-signing with his current team on a one-year contract (or a two-year deal with a second-year option) can opt to waive his right to veto a trade. Seven players have done so this season, including Lakers guard D'Angelo Russell and Nuggets guard Reggie Jackson.
---
Players who have signed veteran extensions
A player who signs a rookie scale extension becomes more difficult to trade due to the "poison pill provision," but he could theoretically be moved immediately.
That's not necessarily the case for a player who signs a veteran contract extension. A player who signs a veteran extension that locks him up for more than three total years (including his current contract) and/or includes a raise higher than 5% become ineligible to be traded for the next six months.
With the help of our extension trackers, here are the players currently affected by that rule, along with the dates they'll become trade-eligible:
Since the trade deadline will be February 8, Hart won't be eligible to be traded until the 2024 offseason. This restriction will also apply to any player who signs an extension between now and the trade deadline, such as Jarred Vanderbilt, who has reportedly agreed to terms on a new deal with the Lakers.
Celtics big man Kristaps Porzingis also signed an extension this offseason, but it didn't exceed three total years or include raises greater than 5%, meaning he remains eligible to be traded.
---
Players who have signed Designated Veteran extensions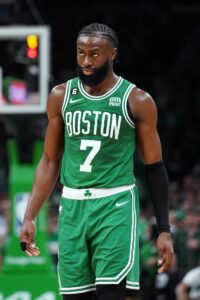 A Designated Veteran contract is also known as a "super-max" deal — it's a maximum-salary contract that starts at 35% of the cap instead of 30% because the player has met certain performance criteria before achieving 10 years of NBA service.
A player who signs a Designated Veteran contract or extension can't be traded for one full year after his signing date.
Only one player has signed a super-max contract this offeason: Celtics wing Jaylen Brown. He'll become trade-eligible on July 26, 2024, the one-year anniversary of his signing.
---
Players affected by aggregation restrictions
When a team trades for a player via salary-matching or using an exception (ie. not by absorbing the player into cap room), that team can't "aggregate" the player in another trade for two months. Aggregating a player means combining his salary with another player's for matching purposes.
However, since all of the trades made this offseason so far were completed by July 17, this restriction no longer affects any players. The last affected players were Hawks guard Patty Mills and Thunder forward Rudy Gay, who became eligible to be aggregated as of September 12.
Any player who is traded this season after December 8 (without being acquired via cap room) won't be eligible to be flipped prior to the trade deadline in a second deal that aggregates his salary with another player's.