A number of 2023 free agents, such as Jerami Grant and Fred VanVleet, did very well for themselves on the open market this summer. However, the most lucrative contracts signed since the new league year began weren't free agent deals at all — they were contract extensions.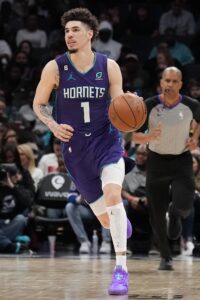 Extensions, of course, don't involve adding a new player to the roster. By extending a contract, a team ensures that a current player will remain locked up for multiple years to come. Although a contract extension may not change the club's outlook on the court, it can have a major impact on that team's salary cap situation for the next several seasons.
Rookie scale extensions are one form of contract extension. Former first-round picks who are entering the fourth and final year of their rookie deals are eligible to sign those up until the day before the 2023/24 regular season begins. It's common for at least four or five players eligible for rookie scale extensions to sign them, and that number is often much higher — there were 11 rookie scale extensions signed in both 2021 and 2022.
[RELATED: Players Eligible For Rookie Scale Extensions In 2023 Offseason]
While they used to be rarer than rookie scale extensions, veteran extensions are happening more frequently these days. The league's 2017 Collective Bargaining Agreement expanded the rules for eligibility and created some additional incentives for star players to sign new deals before they reach free agency, and the 2023 CBA has further incentivized veteran extensions. During the 2022/23 league year, a total of 23 veteran extensions were signed, more than doubling the amount of rookie scale extensions completed during that same window.
The deadline for a veteran extension for a player who isn't in the final year of his current contract is the day before the regular season tips off. However, a player eligible for a veteran extension who is on an expiring deal can sign a new contract throughout the league year, all the way up to June 30, the day before he becomes a free agent.
Listed below are the players who have finalized contract extensions so far in 2023/24. This list, which can be found on the right-hand sidebar under "Hoops Rumors Features" on our desktop site (or on the "Features" page in our mobile menu), will be kept up to date throughout the '23/24 league year, with more extension details added as we learn them.
Note: Projected values for maximum-salary extensions are based on 10% annual salary cap increases. If the cap doesn't increase by that much, those extensions won't be worth as much, since they're based on a percentage of the cap.
---
Rookie scale contract extensions:
---
Veteran contract extensions:
Note: Multiple veterans, including Nikola Vucevic (Bulls), Naz Reid (Timberwolves) and Harrison Barnes (Kings), signed extensions less than a week before the 2023/24 league year began. Those deals are listed in our 2022/23 extension tracker.