The Hornets have waived former first-round pick Kai Jones, according to Shams Charania of The Athletic (Twitter link). The team confirmed the news in a press release.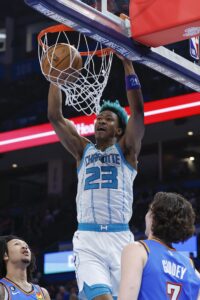 Jones had been away from the Hornets – with no timetable for a return – for personal reasons. The decision for him not to attend training camp was made after the 22-year-old made a series of unusual social media posts, calling out some of his teammates in a handful of tweets and videos.
The No. 19 overall pick in the 2021 draft, Jones averaged just 2.7 points and 2.0 rebounds in 9.1 minutes per game across 67 total appearances in his first two professional seasons. He had a much bigger role at the G League level, averaging 17.2 points, 9.9 rebounds, 1.2 steals and 2.1 blocks in 38 regular season games with the Greensboro Swarm — Charlotte's affiliate — from 2021-23.
A 6'11" big man from the Bahamas, Jones publicly requested a trade a couple days ago. The Hornets decided to release him instead, and they will be on the hook for his full $3,047,880 salary for 2023/24 if he goes unclaimed on waivers. Charlotte also declined its fourth-year team option on Jones — worth $4,693,735 — as part of the move.
Charlotte originally acquired Jones' rights in a draft-night trade with the Knicks. The first-round pick the Hornets sent New York as part of that deal still hasn't conveyed and will be lottery-protected in 2024 and 2025. If it hasn't conveyed by then, it will turn into two second-round picks.
As our roster count shows, the Hornets now have 20 players under contract, with all three two-way slots filled.
It's worth noting that the Hornets have three players — Edmond Sumner (Exhibit 9), Frank Ntilikina ($200K partial guarantee) and JT Thor — on non-guaranteed contracts, not counting their players on Exhibit 10 deals. The odds of all three players making the opening night roster likely increased now that Jones is out of the picture, since Charlotte only has 12 players on guaranteed standard deals.