4:45pm: The trade is official, according to an announcement from the Bucks (Twitter link). Milwaukee's announcement notes that Meeks has been placed on the suspended list, allowing him to avoid counting against the Bucks' roster limit, so it appears he won't be waived immediately.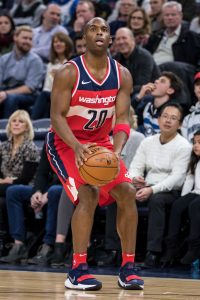 3:34pm: The Bucks and Wizards have agreed to a trade that will send Jodie Meeks to Milwaukee along with cash, reports ESPN's Adrian Wojnarowski (via Twitter). The Bucks will subsequently waive Meeks, Wojnarowski adds.
Previous reports indicated that the Bucks would also receive a future second-round pick as part of the swap, which Woj confirms (via Twitter). According to Jordan Schultz of ESPN (Twitter link), Milwaukee is expected to send out a heavily-protected second-rounder to complete the deal.
The cash the Bucks receive in the deal will likely be enough to cover most or all of Meeks' salary for 2018/19, so Milwaukee will get a chance to add a second-round pick for essentially nothing. The Wizards already owe their top-55 protected 2020 second-round pick to the Bucks, so the simplest move would be to just remove the protection from that traded pick.
For the Wizards, the motivation is to reduce their projected luxury tax bill — Meeks' $3,454,500 cap charge would have been partially reduced as a result of his suspension, which still has 19 games left on it, but that contract would still have cost the Wizards exponentially more in tax penalties. By replacing Meeks with a minimum salary player, Washington will save some money, despite sending cash to the Bucks in the trade.
The Bucks will use a $3,384,176 traded player exception created in last November's Greg Monroe/Eric Bledsoe trade in order to absorb Meeks' salary. While that trade exception technically isn't worth as much as Meeks' cap hit, the NBA's Collective Bargaining Agreement allows teams to trade for a salary worth the value of the TPE plus $100K. That gives Milwaukee just enough wiggle room on Meeks.
A part-time player in D.C. last season, Meeks averaged just 6.3 PPG on .399/.343/.863 shooting in 77 games before being banned 25 games for violating the league's anti-drug program. Even after serving the final 19 games of that suspension, he wasn't expected to be a major part of the Wizards' rotation in 2018/19. He'll be on the lookout for a new team once he clears waivers.
Photo courtesy of USA Today Sports Images.