OCTOBER 13: Winslow's extension is official, per RealGM's NBA transactions log.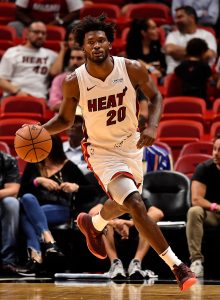 OCTOBER 12: Heat forward Justise Winslow has agreed to a three-year, $39MM extension, Adrian Wojnarowski of ESPN tweets. The agency representing Winslow, Roc Nation, hammered out the deal with Heat president Pat Riley a few days before Monday's rookie scale extension deadline.
The extension includes a third-year team option, Shams Charania of The Athletic tweets.
The Sun Sentinel reported on Tuesday that the two parties were close to an extension agreement.
The agreement greatly reduces the possibility of Winslow being included in a potential trade with the Timberwolves for Jimmy Butler, as CBA rules would complicate his value for salary-matching purposes.
With Devin Booker and Karl-Anthony Towns having already signed new deals, Winslow becomes the third player from the 2015 rookie class to secure an extension. There are still 2o players eligible for a rookie scale extension this year. If those players don't sign new contracts by next Monday, they'll be on track to become restricted free agents during the summer of 2019.
Winslow, the 10th overall pick in the 2015 draft, has not quite developed as quickly as the franchise hoped, though he showed some improvement last season. The extension will be well worth it if he effectively holds down a rotation spot during the life of the contract.
Winslow's contract adds more guaranteed money to already hefty payroll. The Heat will now have approximately $133MM in salary commitments (including player options) for the 2019/20 season. They'll have to make some moves to avoid paying luxury tax penalties following that season.
Winslow shot 38% from long range last season but only posted modest overall numbers, averaging 7.8 PPG, 5.4 RPG, and 2.2 APG in 68 games (24.7 MPG). However, Winslow has the ability to defend multiple positions and averaged 1.6 steals last season.
Photo courtesy of USA Today Sports Images.