Reserve Magic center Moritz Wagner will have his $1.9MM non-guaranteed salary for the 2022/23 NBA season become fully guaranteed, per Khobi Price of the Orlando Sentinel (via Twitter).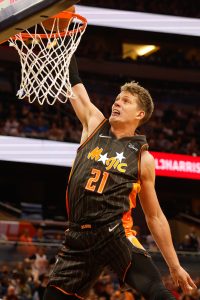 Wagner was drafted by the Lakers out of Michigan with the No. 25 pick in 2018. He spent one season with Los Angeles as a little-used reserve, averaging just 10.4 MPG. The 6'11" center spent the next few years on the move, being flipped first to the Wizards in 2019, then the Celtics and Magic during the 2020/21 season.
The team drafted his younger brother, 2022 All-Rookie small forward Franz Wagner, with the eight overall pick in 2021. The Magic brought Wagner back on his current two-year, $3.6MM deal during the same offseason. Across 63 games with Orlando in 2021/22, the 25-year-old backup big man averaged 9.0 PPG, 3.7 RPG, and 1.4 APG in 15.2 MPG, playing behind the Magic's jumbo-sized frontcourt of Wendell Carter Jr. and Mohamed Bamba.
With the advent of top 2022 draft pick Paolo Banchero out of Duke and the expected return of Jonathan Isaac near the start of the 2022/23 season, Wagner may struggle to make Orlando's big man rotation on a night-to-night basis.