Hoops Rumors is previewing the 2020 offseason for all 30 NBA teams. We're looking at the key questions facing each club, as well as the roster decisions they'll have to make this fall. Today, we're focusing on the Los Angeles Lakers.

---
Salary Cap Outlook
Five Lakers starters or rotation players hold options for 2020/21, while multiple others are free agents. As a result, it's a little tricky to pin down where team salary will land. We can start with accounting for the team's five guaranteed contracts and the cap hold for its first-round pick — those total about $70MM. A new max salary for Anthony Davis will come in at $32.7MM, so we can safely assume the Lakers will operate as an over-the-cap club.
If the Lakers need to give Kentavious Caldwell-Pope and Rajon Rondo sizeable raises, team salary could approach the tax line, in which case the club would be limited to the taxpayer mid-level exception ($5.72MM). But if Los Angeles is willing to let a free agent or two go – or gets them back on team-friendly deals – then the full MLE ($9.26MM) and bi-annual exception ($3.62MM) could be in play.
Our full salary cap preview for the Lakers can be found right here.
---
Roster Decisions To Watch
Options:
Anthony Davis, player option: $28,751,774
Kentavious Caldwell-Pope, player option: $8,543,746

Note: Caldwell-Pope will reportedly decline his option.

Avery Bradley, player option: $5,005,350
JaVale McGee, player option: $4,200,000
Rajon Rondo, player option: $2,692,991
Non-Guaranteed Contracts:
Quinn Cook ($3,000,000)

Note: Partially guaranteed for $1MM.
Two-Way Contracts:
Free Agents:
---
2020 Draft Assets
First Round:
Second Round:
While the Lakers retained their own first-round pick, their second-rounder (No. 58) belongs to the Sixers. L.A. originally sent that pick to Orlando last June in a deal for Talen Horton-Tucker; the Magic flipped it to Philadelphia at the trade deadline for James Ennis.
---
Three Key Offseason Questions
1. What will Anthony Davis' new contract look like?

A year ago, there was plenty of drama entering free agency about where top free agents like Kawhi Leonard and Kevin Durant would ultimately land. For Davis, this year's No. 1 free agent, that drama is essentially nonexistent — he forced a trade to the Lakers from New Orleans a year ago, then won a title with his new club this fall. Why would he leave?
Still, it won't simply be a matter of exercising his player option to stick around. If he opts out, Davis can comfortably exceed the $28.75MM he'd earn by opting in. As such, he has already signaled his intention to turn down that option.
On his new deal with the Lakers, Davis will earn a maximum salary of $32.74MM in 2020/21, but the length and structure of that contract are still question marks. Although the seven-time All-Star could lock in nearly $190MM in guaranteed money by signing a five-year contract with L.A., I suspect he'll avoid that option, preferring to maintain some flexibility over the next couple years — not so he can eventually leave the Lakers, but so he can maximize his earnings going forward.
Signing a two-year contract that has a player option in year two would line up Davis' contract with LeBron James'. It would also secure him an 8% raise for 2021/22, when the cap may increase by as little as 3%. That's a realistic and potentially favorable option for AD.
The other most viable option would be a three-year pact with a third-year player option. That would ensure that when Davis gets the chance to opt out in 2022, he'll have 10 years of NBA experience under his belt, meaning he'll be eligible to receive a starting salary worth 35% of the cap. Even if the cap only increases by 3% annually for the next two years, that would put Davis in line to sign a five-year contract that starts at $40.5MM in 2022/23 and has a total value of $235MM.
Davis' decision will ultimately come down to his priorities. Signing a one-plus-one contract and going year to year puts him in the best position to maximize his earnings and his flexibility, but it also means potentially dealing with free agency every year. If he doesn't want to bother with that, a two-plus-one deal might be the move. If he really doesn't want to be distracted by impending free agency anytime soon, a five-year pact is possible, but I think that's probably a long shot.
2. Can the Lakers bring back all their key free agents while using their mid-level to add another productive player?

The Lakers are a lock to re-sign Davis, but what about the role players who came up big during the team's championship run, like Kentavious Caldwell-Pope and Rajon Rondo? Both veteran guards are expected to turn down their player options in search of new deals, and they'll definitely be in line for raises after taking up just over $10MM in cap space in 2019/20.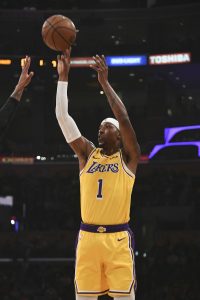 It's hard to pin down exactly how much KCP's and Rondo's next contracts will be worth. I don't expect major bidding wars on too many free agents this fall, but rival teams might want to put pressure on the defending champions by making aggressive offers for the Lakers' most important free agents.
ESPN's Bobby Marks estimates a starting salary in the $12-14MM range for Caldwell-Pope and $4-6MM for Rondo, so let's project it takes about $20MM to bring both players back.
Even if we assume the Lakers waive-and-stretch Quinn Cook and don't use their first-round pick, that still puts team salary above $120MM for just eight players, and doesn't account for the possibility that JaVale McGee ($4.2MM) and Avery Bradley ($5MM) will both exercise their player options. It also doesn't include salaries for Dwight Howard or Markieff Morris, who will both be free agents too.
Ideally, the Lakers would like to be able to use the full, non-taxpayer mid-level exception. It's worth $9.3MM, which should be enough to bring in a valuable rotation piece this fall, since only a small handful of clubs have cap room. But L.A.'s team salary would be hard-capped at $138.9MM if the organization uses more than the taxpayer portion of the mid-level ($5.7MM), so that doesn't leave a whole lot of breathing room.
Still, there are ways the Lakers may be able to create enough flexibility to use the full MLE. If McGee or Bradley opts out, that would help. Jettisoning one of Caldwell-Pope or Rondo would too, though that's not an ideal solution. The Lakers could also shed some salary in a trade, perhaps by moving Danny Green's expiring $15MM+ contract, but that may be a trade chip better used in a swap for an impact player rather than in a salary-dump deal.
The Lakers' best hope of bringing back most of their key free agents while maintaining enough flexibility to bring in another good player with the MLE is that veterans are willing to take a bit of a discount to contend for another title in L.A.
If, for instance, Caldwell-Pope and Rondo only cost a combined $15MM and Howard is willing to sign another minimum-salary deal, that extra bit of flexibility could make a big difference for the Lakers. And if there's a useful veteran out there willing to play for the taxpayer MLE rather than the full $9.3MM, that'd be a bonus, since the hard cap would be of no concern.
The Lakers' free agency puzzle will be a tricky one to solve, especially since Howard and Morris only have Non-Bird rights, preventing the team from giving them much of a raise. But if one or two things break right for the franchise, the other pieces could fall into place in short order.
3. Could a trade package of Danny Green, Kyle Kuzma, and the No. 28 pick bring back an impact player?

Given the construction of the Lakers' roster, Green, Kuzma, and their first-round pick are probably the team's most expendable pieces in a potential trade. Green and Kuzma are on expiring deals, and Kuzma wasn't a particularly great fit alongside fellow power forwards James and Davis. Plus, a title-contending team probably doesn't need to add a late-first-round rookie who would have a hard time cracking the rotation.
On the surface, it looks like a pretty appealing package for a potential trade partner. Green is a reliable three-and-D wing who has won multiple championships and has knocked down 40% of his career three-pointers. Kuzma is a 25-year-old who averaged 16.0 PPG in his first three NBA seasons and will cost just $3.6MM in 2020/21. And every NBA team would welcome a first-round pick that can be used to control a young player on an affordable contract for the next four years.
Still, there's reason to believe the package wouldn't be as valuable as the Lakers might hope. Green is now 33 years old and has struggled with his outside shot in each of the last two postseasons, forcing the Raptors and the Lakers to cut back his minutes in the 2019 and 2020 Finals. He's also the sort of player who would primarily appeal to a playoff team, and it's probably safe to assume not many of those teams would be looking to send an impact player to L.A.
As for Kuzma, he put up nice scoring numbers on the Lakers' lottery-bound teams in his first two seasons, but had more trouble carving out a role in 2019/20. He's not a good enough shooter (.308 3PT% over the last two seasons) to reliably space the floor, and he's not a particularly strong defender either. He's also headed for restricted free agency in 2021, meaning a team that acquires him would be responsible for giving him a significant raise a year from now.
The No. 28 pick, meanwhile, is a useful asset, given the relatively strong depth of this year's draft class. But that late in the first round, it's probably unreasonable to expect that pick to turn into anything more than a solid role player.
It's not a package that would get the Lakers' foot in the door for a player like Jrue Holiday, but it might be enough for a distressed asset. I think the Pacers would probably want more for Victor Oladipo, but if they're genuinely concerned about his health and his impact on Indiana's locker room, they could do worse than Green, Kuzma, and a first-rounder.
The Green/Kuzma duo has also been mentioned as the start of a package for Spurs guard DeMar DeRozan, which would be interesting. DeRozan, a Los Angeles native, would give the Lakers some scoring punch beyond LeBron and AD, and there's enough defensive talent on the roster to cover up his shortcomings on that end of the floor. If San Antonio is pivoting to a rebuild, reuniting with Green while acquiring Kuzma and a first-rounder would be a decent return for DeRozan's expiring deal, though L.A. would have to include a little more salary for matching purposes.
Green and Kuzma each played regular roles for this year's championship team, and the Lakers have exhibited a knack for getting value late in the first round of drafts, so if they hang onto their assets, they'll be fine. But if they make a move on the trade market, it's a good bet that some or all of those pieces will be part of a deal.
Information from Basketball Insiders and ESPN was used in the creation of this post. Photos courtesy of USA Today Sports Images.