The Thunder have signed head coach Mark Daigneault to a contract extension, the team announced today in a press release.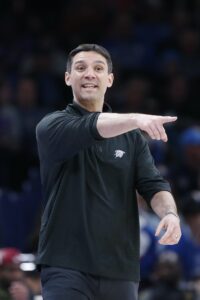 Oklahoma City didn't provide any specific details on how long the new agreement will keep Daigneault under contract, simply referring to it as a "multiyear" deal.
Daigneault, 38, worked under Billy Donovan as a graduate student at Florida, then joined him as an assistant on the Gators staff from 2010-14 before making the move to OKC. He was the head coach of the Oklahoma City Blue – the Thunder's G League affiliate – for several seasons while also serving as an assistant on Donovan's staff with the NBA club in 2016 and again in 2019/20.
Following Donovan's exit for Chicago in 2020, the Thunder promoted Daigneault to head coach. While his 86-150 (.364) record across three seasons doesn't look great on paper, the rebuilding club has shown real signs of progress under Daigneault, particularly in 2022/23 — OKC went 40-42 during the regular season and won a play-in game in New Orleans before losing out on the No. 8 seed by dropping a second play-in contest in Minnesota.
Daigneault, who was the runner-up to Mike Brown in Coach of the Year voting this spring, will be tasked going forward with turning an ascendant team led by Shai Gilgeous-Alexander, Josh Giddey, Jalen Williams, Luguentz Dort, and Chet Holmgren into a legitimate contender.