THURSDAY: Barnes is officially a Maverick, tweeting out a photo that shows him formally signing his new contract early on Thursday morning.
MONDAY: With Harrison Barnes poised to be renounced by the Warriors and reach unrestricted free agency, he and the Mavericks have reached a verbal agreement on a four-year, $94MM contract, reports ESPN's Marc Stein (via Twitter). The Warriors' agreement with Kevin Durant opened the door for Dallas to secure a commitment from Barnes without having to worry about Golden State matching an offer sheet.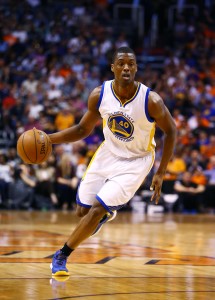 [RELATED: Mavs, Warriors agree to Andrew Bogut deal]
Barnes, 24, had been with the Warriors since the team drafted him in 2012. The former seventh overall pick turned down a reported $64MM extension offer prior to the 2015/16 season, and is now in position to make an additional $30MM over the several years because of that decision.
Barnes has been a solid rotational piece for the Warriors throughout his first four NBA seasons, shooting 37.6% on three-pointers and averaging double-digits in points for his career. However, he was inconsistent in the playoffs, no-showing in some key games down the stretch for Golden State. In the NBA Finals, Barnes shot just 35.2% from the floor, including 31.0% from three-point range, and many of those attempts were uncontested.
Still, Barnes was never really more than the fourth option on offense in Golden State — he'll almost certainly have a larger role in the offense in Dallas, and will get a chance to show that there's still room for improvement in his production. The UNC product will replace Chandler Parsons at small forward for the Mavericks, after Parsons reached a deal to join the Grizzlies earlier in free agency.
The Mavs had been prepared to sign Barnes to an offer sheet before word broke that the Warriors would be making him an unrestricted free agent.
Photo courtesy of USA Today Sports Images.