After missing out on some of their top free agent targets early in July, the Mavericks have been active over the last couple days filling out their roster, and now the team is set to lock up its franchise player to a new contract. According to ESPN's Marc Stein, the Mavs have reached an agreement on the framework for a two-year, $40MM deal for Dirk Nowitzki. The second year of the deal will likely be a player option, per Stein.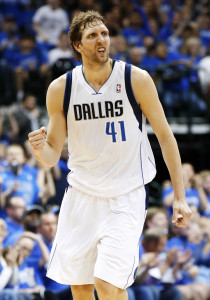 [RELATED: Mavs, Harrison Barnes agree to four-year deal]
For Nowitzki, the new deal will represent a significant increase in salary on his last contract, which was worth $25MM over three years. The longtime Maverick opted out of the final year of that deal last month, choosing instead to work out a new, multiyear contract with Dallas. Although there were rumblings that the Warriors – and perhaps other teams – intended to reach out to Nowitzki, the Mavs were always the strong favorites to re-sign him.
Because Nowitzki was on such a modest contract, his cap hold this summer is only worth about $12.5MM. The Mavericks will have to keep that figure on their books as they absorb trade acquisition Andrew Bogut and finalize contracts for other free agent signees. However, once they use up their cap room, the Mavs will be able to go over the cap to finalize Nowitzki's deal, which will have a salary closer to $20MM in 2016/17.
Although they missed out on top free agent targets like Mike Conley and Hassan Whiteside, the Mavericks have recovered reasonably well, agreeing to acquire Bogut from the Warriors for essentially nothing, and landing Harrison Barnes and Seth Curry in free agency. The team also reached agreements to bring back a pair of its own free agents, Deron Williams and Dwight Powell.
[RELATED: Mavericks' free agent deals in our 2016 Free Agent Tracker]
Nowitzki turned 38 in June, but has continued to be extremely productive for the Mavericks, even as the team has slipped from title contention in recent years. In 2015/16, the German big man averaged 18.3  PPG, 6.5 RPG, and 1.7 3PG. Nowitzki's field-goal percentage did slip to .448, his worst mark since his rookie season, but he shot a respectable 36.8% on three-pointers and continued to handle a significant offensive load for the franchise.
Photo courtesy of USA Today Sports Images.