JULY 15th, 12:01pm: The signing is official, the Pistons announced via press release.
JULY 1st, 11:40am: The two sides have reached an agreement on a five-year, max deal that includes a player option for the final season, Marc Stein of ESPN.com reports (on Twitter).
3:20am: The Pistons and restricted free agent center Andre Drummond are closing in on an agreement on a five-year, maximum-salary contract, reports ESPN's Marc Stein (via Twitter). If it's a max deal, the exact value won't be determined until next week when the cap is set, but it's expected to be in the $125-130MM range.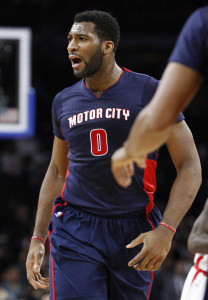 [RELATED: Pistons, Ish Smith agree to three-year contract]
Drummond entered July as one of the top restricted free agents on the market, along with Bradley Beal of the Wizards. Like Drummond, Beal is nearing a five-year max deal with his team. Stein tweets that both agreements are expected to be finalized later on Friday, then will become official sometime after the moratorium ends.
Drummond, who turns 23 in August, earned his first All-Star nod in 2015/16 and was named to the All-NBA third team. The former ninth overall pick led the NBA in total offensive rebounds for the third consecutive seasons, averaging  a career-high 16.2 points and an NBA-best 14.8 rebounds per game for the season.
Although he continued to provide rebounding, rim protection, and efficient offense, Drummond's one glaring weakness is his free-throw shooting. His free-throw percentage dipped to a career-worst 35.5% in 2015/16 as he was getting to the line more than ever (7.2 attempts per game).
Still, it appears the Pistons are willing to cement Drummond as a long-term fixture in Detroit, despite his free-throw woes. Drummond's cap hold is currently a modest $8.18MM, so if the team wants to make the most of its cap room, it may hold off on finalizing the big man's new deal until it uses up all its space. The Pistons hold Drummond's Bird Rights and can go over the cap to lock him up.
Photo courtesy of USA Today Sports Images.