The Wizards and Ian Mahinmi have agreed to four-year pact worth $64MM, according to Tim Bontemps of The Washington Post. The Pacers tried to re-sign Mahinmi, but were not going to offer that kind of money, Nate Taylor of The Indianapolis Star relays.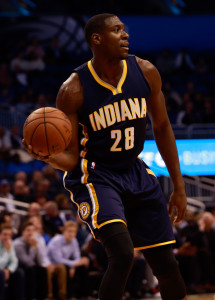 This is the second major move for the Wizards this offseason, following their agreement to re-sign shooting guard Bradley Beal to a five-year max, maximum-salary contract. The team was also linked to Al Horford, Luol Deng, and Jared Dudley, before those players reached deals with other teams.
A 6-foot-11 center, Mahinmi enjoyed the best season of his career last year at the age of 29. He averaged 7.1 rebounds per game and 9.3 points on 58.9% shooting. Mahinmi had served as a backup for seven previous seasons, so it remains to be seen whether or not his success is sustainable.
Mahinmi joins a Washington front court that already features Markieff Morris and Marcin Gortat. He'll be expected to help improve a defense that ranked No. 14 in efficiency, and also looks to be the replacement for Nene, who is an unrestricted free agent after having spent four seasons with the Wizards.
The Spurs, Timberwolves, Hornets, Mavericks, Trail Blazers, and Magic were also mentioned as potential suitors for Mahinmi.
Photo courtesy of USA Today Sports Images.