Veteran center Ian Mahinmi has decided to call it a career, announcing his retirement during an appearance on 'NBA Extra,' a show produced by international outlet beIN Sports (video link).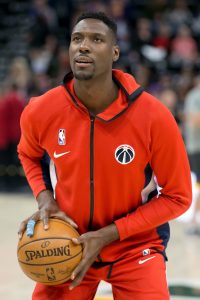 Mahinmi, 34, made his NBA debut in 2007, but was playing professional basketball well before then, spending time with multiple French clubs beginning in 2003. After being selected 28th overall in the 2005 draft by the Spurs, he was a draft-and-stash prospect in France for two more years before coming stateside.
Mahinmi appeared in 618 total regular season NBA games for the Spurs, Mavericks, Pacers, and Wizards, averaging 5.2 PPG and 4.4 RPG in 16.8 MPG. The big man, who also played in 67 postseason contests, won a title with Dallas in 2011 and was a beneficiary of the 2016 salary cap spike, signing a four-year, $64MM contract with Washington during that offseason.
That ended up being Mahinmi's last NBA contract, as he went unsigned when he reached unrestricted free agency in 2020. We heard in April that he was one of the options the Heat considered before they signed Dewayne Dedmon, but Mahinmi ultimately didn't catch on with any team in 2020/21, prompting him to decide to hang up his sneakers this summer.
As he transitions to the next phase of his career, Mahinmi will be involved with NBA Africa as one of the investors in the venture, per beIN Sports.