11:07am: The deal is official, the Jazz announced in a press release.
9:38am: The Jazz and Sixers have agreed to a trade that will send point guard Kendall Marshall to Utah, reports Adrian Wojnarowski of The Vertical (via Twitter). According to Wojnarowski, the Jazz will send Tibor Pleiss, two second-round picks, and cash to Philadelphia in exchange for Marshall. Utah will subsequently waive Marshall, whose deal is not guaranteed, tweets Wojnarowski.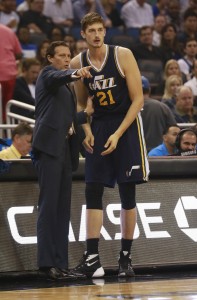 It's essentially a cost-cutting move for the Jazz, who had been on track to pay Pleiss a guaranteed $3MM salary in 2016/17. Utah ditches that contract and takes on Marshall's deal, which is fully non-guaranteed for now. The point guard's $2,048,257 salary is set to become guaranteed soon, but the Jazz will waive him before that happens.
The move seems somewhat unusual on the surface for Utah, whose cap commitments for 2016/17 only totaled about $85MM prior to the trade. It's possible though that the club is opening up a little extra cap room in order to renegotiate and extend Derrick Favors' contract. The Jazz will now have more than enough cap room to give Favors a pay raise to the max for 2016/17, while locking him up for additional seasons. Dana Gauruder of Hoops Rumors recently examined Favors' case for an extension.
Whether or not the Jazz extend Favors this year, the team created more cap flexibility for 2017/18, when Pleiss would have had a modest $500K guarantee on his salary. With Favors and Rudy Gobert both candidates for max extensions, and Utah potentially wanting to lock up George Hill beyond this season as well, every little bit of cap room could help.
The Jazz also created an opening on their 15-man roster for the coming season, which is good news for the players competing for a spot. Utah selected three players – Joel Bolomboy, Marcus Paige, and Tyrone Wallace – in the second round of the 2016 draft, and the odds are good that at least one or two of those players make the regular-season roster.
As for the Sixers, they're still well below the salary floor, and even if they don't plan to use Pleiss at all, they'll pick up a pair of future second-round picks and some cash for their trouble. The conditions on those second-rounders isn't known, but Philadelphia didn't have much to lose by making the deal.
Pleiss, a former second-round pick who signed with the Jazz last summer, barely saw any action in his first NBA season, playing just 82 total minutes for Utah. The German big man was assigned to the D-League for a good chunk of the season, and he played well there, averaging 12.3 PPG and 10.4 RPG in 28 contests.
Marshall, meanwhile, continues to jump from team to team, having failed to develop into a reliable NBA point guard since being selected 13th overall in 2012. The 25-year-old has played for the Suns, Lakers, Bucks, and Sixers since entering the league, and will now be seeking a new home for the 2016/17 campaign. This will be the third time he has been traded and subsequently waived — it also happened in 2013 and 2015.
Photo courtesy of USA Today Sports Images.