12:15pm: The Lakers have made it official, announcing in a press release that they've formally signed Ingram to his rookie contract.
8:31am: Heading into Tuesday, 29 of 30 first-rounders from the 2016 draft have either signed their NBA contracts or elected to play overseas for the coming season. Number two overall pick Brandon Ingram will make it 30 out of 30 later today, according to Shams Charania of The Vertical, who reports (via Twitter) that the Lakers are poised to sign their rookie forward.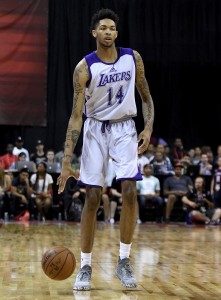 [RELATED: 2016 Draft Pick Signings]
The Lakers will sign Ingram exactly two months after he was drafted, having waited this long because it gave the team a little extra flexibility. While the odds of packaging the No. 2 overall pick in a trade for a star were slim, keeping Ingram unsigned allowed the club to move him such a deal — once he signs his rookie contract, the former Duke standout can't be traded for a month.
The delay also gave the Lakers the opportunity to make the most of their leftover cap room. Ingram's cap hold of $4,401,400 has been on Los Angeles' books for the last couple months, but that number will increase to $5,281,680 once he officially signs his deal, since he'll get the maximum allowable 120% of his rookie-scale amount.
[RELATED: Salaries For 2016 First-Round Picks]
The difference between those two figures only works out to about $880K, but there was no reason for L.A. to give up that extra flexibility early. That flexibility appears to have allowed the Lakers to max out their cap room with deals for Yi Jianlian and Zach Auguste this week, though we haven't yet seen the official numbers on those contracts.
Ingram, who will turn 19 next month, averaged 17.3 PPG, 6.8 RPG, 1.4 BPG, and 1.1 SPG while shooting 41.0% from three-point range during his first and only college season. He was viewed as the consensus No. 2 prospect in this year's draft behind first overall pick Ben Simmons.