Over the next several weeks, Hoops Rumors will be breaking down the 2016 offseason for all 30 NBA teams, revisiting the summer's free agent signings, trades, draft picks, departures, and more. We'll evaluate each team's moves from the last several months and look ahead to what the 2016/17 season holds for all 30 franchises. Today, we're focusing on the San Antonio Spurs.
Free agent signings:
Draft-and-stash signings:
Camp invitees:
Trades:
Draft picks:
Departing players:
Other offseason news:
---
Check out our salary cap snapshot for the San Antonio Spurs right here.
---
Over the course of the last 19 NBA seasons, the Spurs won fewer than 50 games just once, and that happened during the strike-shortened 1998/99 campaign, when the team went 37-13 and won the NBA Finals. San Antonio compiled an incredible .710 regular-season winning percentage during that run of nearly two decades, as well as a staggering .617 postseason winning percentage, racking up five championships along the way.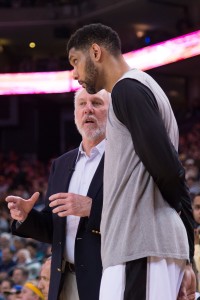 The two constants during that 19-year run? Gregg Popovich on the bench and Tim Duncan in the middle. Popovich remains at the helm of the Spurs, but for the first time since the 1996/97 season, he'll enter opening night without his future Hall-of-Fame power forward in the lineup, as Duncan announced his retirement in July.
For many years, the belief was that Duncan and Popovich would end their respective careers at the same time, but for the Spurs' long-time head coach, there are plenty of reasons to stick around. Many of his other long-tenured players, like Tony Parker and Manu Ginobili, remain in San Antonio, and the team has ushered in a new era of stars, with Kawhi Leonard and LaMarcus Aldridge now front and center. Things will certainly be different with Duncan no longer on the court, but in his final season, he was simply a productive role player, rather than the dominant force he had been during the prime of his career.
The Spurs will attempt to fill the void left by Duncan by turning to veteran free agent signees like Pau Gasol and David Lee, who each inked two-year deals with player options on that second year. Neither Gasol nor Lee is the defender that Duncan is, but both players are proficient scorers. Gasol is coming off consecutive All-Star seasons in Chicago, where he averaged 17.6 PPG and 11.4 RPG during his two seasons as a Bull. Lee, meanwhile, has seen his playing time and production decline significantly since 2014, and his days as an 18+ PPG player are almost certainly over, but if there's any team capable of coaxing a bounce-back performance out of the 33-year-old, it's the Spurs.
Gasol will earn more than $15MM annually on his two-year deal, making him a bigger risk than Lee, who is on a minimum-salary pact. But even at age 36, Pau has shown few signs of slowing down, and playing in San Antonio should be a nice fit for him, given his strong passing ability and basketball IQ. Marc Gasol agrees, having suggested back in April that his brother should sign with the Spurs.
While Gasol and Lee should provide the Spurs with some additional scoring punch on the inside, Dewayne Dedmon was signed – using the room exception – to help improve the team's rim protection and defense. Dedmon only averaged about 13.2 minutes per game in Orlando over the last two seasons, but the Magic's defensive rating was better when he was on the floor, particularly in 2014/15.
The Spurs' new big men will team up with Aldridge to present a much different look than the Spurs showed last season. Along with Duncan, Boban Marjanovic and David West are also gone, having signed free agent deals with the Pistons and Warriors, respectively. Meanwhile, Boris Diaw was traded to the Jazz in a move designed to clear the cap room necessary to add Gasol, and longtime Spurs sharpshooter Matt Bonner remains unsigned.
For a franchise that generally thrived on continuity, the frontcourt overhaul is an interesting one. Aldridge will likely be relied upon as the stabilizing presence up front, but there have been some questions about his place in San Antonio this fall. Recent reports have suggested that the Spurs may be open to the idea of trading Aldridge at some point in 2016/17, with multiple journalists indicating that the former Blazer may not be thrilled about the fact that he has become Leonard's wingman after previously believing he'd be the Spurs' primary option going forward.
For his part, Aldridge has insisted that he's happy in San Antonio, and there's no reason why that shouldn't be true. After all, even after winning 50+ games every season for nearly two decades, the Spurs had never won as many games as they did in 2015/16 — they racked up 67 victories in Aldridge's first season with the franchise.
By all accounts, the Spurs intend to move forward with Aldridge as a core piece, and would only even consider shaking things up if they significantly under-performed or if the relationship between the two sides takes a turn for the worse. That seems like the right call, since Aldridge's on-court contributions would be hard to replace, even for a team as savvy at spotting value as the Spurs.
San Antonio's knack for finding value surfaced again during this year's draft, when the team landed Washington guard Dejounte Murray with the 29th overall pick. Viewed by some experts before the draft as a potential lottery pick, Murray was dubbed the steal of the night by ESPN's Chad Ford, who gave the Spurs an A+ grade based on their lone 2016 selection.
The Washington product is still just 20 years old, and will probably need to improve his shooting to become a regular rotation player for the Spurs. Still, San Antonio has the luxury of bringing Murray along slowly rather than throwing him right into the fire, allowing him to develop and learn from players like Parker and Ginobili, who have eight All-Star appearances between them. The club has taken that approach with players like Jonathon Simmons and Kyle Anderson, who appear poised to take on larger roles in 2016/17.
It's certainly possible – even likely – that the Spurs will see their win total slip a little this season, but with the exception of the Warriors, no other Western Conference contenders took a major step forward this offseason. In fact, the Thunder, who defeated the Spurs in the second round of the playoffs last spring, took a huge step backward, having lost former MVP Kevin Durant. There may be some growing pains as this summer's new acquisitions – both young and old – adjust to their roles, and longtime Spurs like Parker and Ginobili adjust to life without Duncan. But with Leonard and Aldridge leading the way, the Spurs should be a top-four team in the West, and they appear well-positioned to remain a contender for the next several years.
Salary information from Basketball Insiders used in the creation of this post. Photo courtesy of USA Today Sports Images.