Over the next several weeks, Hoops Rumors will be breaking down the 2016 offseason for all 30 NBA teams, revisiting the summer's free agent signings, trades, draft picks, departures, and more. We'll evaluate each team's moves from the last several months and look ahead to what the 2016/17 season holds for all 30 franchises. Today, we're focusing on the Toronto Raptors.
Free agent signings:
Camp invitees:
Trades:
Draft picks:
Departing players:
Other offseason news:
Named Jerry Stackhouse the head coach of Raptors 905, their D-League affiliate.
Signed president Masai Ujiri to a contract extension and promoted Jeff Weltman to general manager.
Extended qualifying offer to Nando De Colo to retain his NBA rights.
---
Check out our salary cap snapshot for the Toronto Raptors right here.
---
Toronto has not typically been a popular free agent destination since the Raptors entered the NBA in 1995, with top players often balking at the idea of moving to another country – a colder one, at that – to join a franchise that had won just a single playoff series over the course of two decades.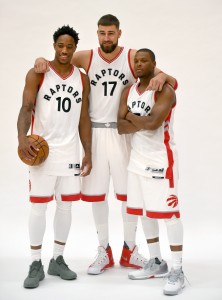 When the Raptors have splashed around in free agency, the moves have often been ill-advised — the team's list of big-money signees over the years includes Hedo Turkoglu, Jason Kapono, Linas Kleiza, Rafer Alston, and Landry Fields. When HoopsHype named the top 10 free agent signings in franchise history earlier this year, a pair of solid but unspectacular role players, Jose Calderon and Anthony Parker, topped the list.
Taking that history into account, 2016 has been a massive year for the franchise, which won a seven-game postseason series for the first time in Raptors history, then won another one in the second round. After their most successful season ever, the Raptors also enjoyed one of their most successful offseasons, locking up free agent guard DeMar DeRozan to a five-year, $137.5MM deal, easily the largest contract in franchise history — not to mention one of the largest in NBA history.
DeRozan's free agency came at a time in his career when previous Raptors stars have typically decided they no longer want to be in Toronto, and have taken their talents elsewhere in free agency (Chris Bosh) or pushed for a trade (Vince Carter). Lakers-related rumors swirled around DeRozan for months leading up to his free agency, but the Compton native never seriously considered signing with any team besides the Raptors, reaching an agreement with Toronto during the early-morning hours on July 1, shortly after negotiations began.
DeRozan's decision to stick with the Raptors is a strong signal that the franchise has turned a corner under the leadership of team president Masai Ujiri, who received a new contract extension this summer. Even before DeRozan re-signed, Ujiri had shown signs of turning around the Raptors' free agent fortunes, inking Cory Joseph and DeMarre Carroll to multiyear deals in 2015. While Carroll's first year with the club was marred by health issues, both players looked like good fits when they were on the court.
Still, Joseph and Carroll have skill-sets that line up well with how modern NBA games are played, but it's not clear if the same can be said of DeRozan. The 27-year-old is a career 28.3% shooter from long range, preferring to take the majority of his jump shots from just inside the arc. And while he increased his overall field goal percentage to 44.6% in 2015/16, his best mark in five years, the Raptors had nearly as high an offensive rating when he was off the court (106.7) as when he was on it (107.1) — and the club's defensive rating was noticeably better when DeRozan was on the bench (99.4, compared to 104.1).
That's not to say that the Raptors should have let DeRozan leave. He's an extremely talented scorer who shoots a ton of free throws and who has been working to improve his three-point shot. Toronto's cap situation also likely would have prevented the team from landing another star if they'd passed on DeRozan, and the optics of an All-Star player choosing to sign long-term with the Raptors are great for the franchise. Nonetheless, for a player who will make $27.5MM annually over the life of his contract though, DeRozan will have to keep tweaking and improving his game to make the deal a strong investment for the club.
If the Raptors hadn't re-signed DeRozan, the team likely would have made a stronger effort to bring back Bismack Biyombo, who had a breakout postseason performance, particularly after Jonas Valanciunas went down with an ankle injury. Biyombo was a fan favorite in Toronto, but Ujiri was probably wise not to pay a premium for a couple impressive months. While Biyombo is still young and could continue to show improvement, he wasn't going to be the starter in Toronto anytime soon, with Valanciunas under contract through at least 2019. The four-year, $68MM contract Biyombo received from Orlando would have been unpalatable for the Raptors.
In addition to Biyombo, the Raptors also lost veteran rotation players Luis Scola and James Johnson. Unlike Biyombo, both Scola and Johnson saw their roles significantly reduced in the playoffs, but the duo helped provide depth throughout the season, so the Raptors needed to identify replacements this summer.
The primary beneficiary of those departures will be new power forward Jared Sullinger, who figures to be Toronto's starter at the four, with Patrick Patterson coming off the bench. The team signed Sullinger to a one-year contract using its mid-level exception after missing out on veteran free agent Pau Gasol, who signed with the Spurs.
Having averaged a career-high 8.3 rebounds per game in 2015/16, Sullinger will help out on the boards, but the Raptors also want him to be willing to take plenty of three-point attempts. Scola had made just 10 of his 60 career three-point shots prior to last season, but made over 40% of 161 tries in his lone season in Toronto. The Raps will hope to repeat that success with Sullinger, a career 27.6% shooter from long distance, encouraging him to attempt corner threes whenever he has the opportunity. If he can improve his marksmanship from outside, he'll have plenty of opportunities to contribute on both ends of the court, helping to make up for the departures of both Biyombo and Scola.
The Raptors' other two key additions are first-round rookies, as center Jakob Poeltl and power forward Pascal Siakam enter the mix. With a consensus top eight prospects in this year's draft, the No. 9 spot, where the Raptors snagged Poeltl, was the first selection that was really up in the air. Toronto could've selected another big man like Domantas Sabonis at that spot, so it'll be interesting to monitor Poeltl's development to determine whether the team made the right call. The young center made nearly 66% of his shot attempts during his two years at Utah, showing the ability to score around the basket — while he may not begin the year as Valanciunas' top backup at center, he could earn that role over the course of the season.
As for Siakam, he was viewed as a slight reach at No. 27, but the Raptors didn't have a second-round selection, and they seem high on the young forward. Siakam is a high-motor, max-effort player, having averaged an eye-popping 11.6 RPG last season at New Mexico State. If he impresses during the preseason, I expect he'll have some opportunities to earn regular season minutes, providing energy off the bench.
The Raptors already have a few young players, including former first-rounders Lucas Nogueira, Bruno Caboclo, and Delon Wright, who didn't see the floor a whole lot last season, so it's worth keeping an eye on how head coach Dwane Casey disperses playing time among the under-25 set. If newcomers like Poeltl and Siakam quickly usurp Nogueira and Caboclo in the pecking order, it may not be a great sign for the incumbents' potential to become rotation players.
As they prepare to enter the 2016/17 season, these Raptors look awfully similar to last year's version, with a few tweaks around the edges. While some observers expect the club to take a step back after winning a franchise-record 56 games a year ago, Toronto will have continuity on its side, and with young players like Valanciunas, Joseph, Terrence Ross, and Norman Powell still on the rise, there's potential for some improvement from within.
Surpassing last year's 56-win total might not be a realistic expectation, but the Raptors should remain a strong contender in the East, relying on veteran stars like DeRozan and Kyle Lowry to carry the load. More importantly for the franchise, the last several months have proven that Toronto can be a place where standout players want to play, and a place where they believe they can win. That shift in perception could be crucial for Ujiri and the Raptors going forward as they attempt to add a few more pieces to make the team a title contender.
Salary information from Basketball Insiders used in the creation of this post. Photo courtesy of USA Today Sports Images.