Over the next several weeks, Hoops Rumors will be breaking down the 2016 offseason for all 30 NBA teams, revisiting the summer's free agent signings, trades, draft picks, departures, and more. We'll evaluate each team's moves from the last several months and look ahead to what the 2016/17 season holds for all 30 franchises. Today, we're focusing on the Washington Wizards.
Free agent signings:
Draft-and-stash signings:
Camp invitees:
Trades:
Acquired Trey Burke from the Jazz in exchange for the Wizards' own 2021 second-round pick.
Draft picks:
Departing players:
Other offseason news:
---
Check out our salary cap snapshot for the Washington Wizards right here.
---
The Wizards spent the last few years preparing for the summer of 2016. Every transaction was scrupulously completed with future flexibility in mind, as the team had an eye toward offering Maryland native Kevin Durant a maximum salary deal. Durant didn't even take a meeting with Washington, opting to join forces with the Warriors instead. In addition to striking out on Durant, Washington also missed out on other major targets, such as Al Horford and Ryan Anderson. The franchise quickly pivoted to other options and ultimately ended up exhausting its cap space on ancillary parts.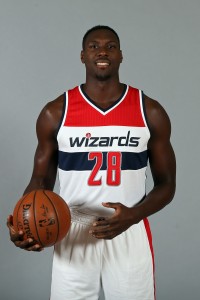 Ian Mahinmi, who signed a four year, $64MM deal with the team, was brought in to be a force in the paint. Mahinmi has always been known for his defense — he was the third-best center on that end of the floor, according to ESPN's Real Plus/Minus — but he's been quietly improving his offensive game as well. He allowed Indiana to play a pace-and-space type offense because of his understanding of the game and his ability to quickly make the right reads and deliver crisp, clean passes. New coach Scott Brooks, who signed a five year, $35MM contract with the team this offseason, should be able to employ a similar game plan with pick-and-rolls mixed in.
Mahinmi's arrival brought speculation that Marcin Gortat could be on his way out, though a torn meniscus suffered by Mahinmi has temporarily quieted that talk. The two centers shouldn't see too much court time together because of their overlapping skill-set, including a relative lack of shooting range. Playing the duo together would severely clog the lane, and with only 48 minutes available for the five spot, it's logical to conclude that a trade may be forthcoming. Gortat has proven to be the better player thus far, but he's on a team-friendly contract that will pay him $36MM over the next three years. He would fetch more for Washington in a trade should the team decide to make a move.
The Wizards' other offseason moves also suggest they may be gearing up for a Gortat trade. In addition to Mahinmi, the team signed Jason Smith and Andrew Nicholson. In today's NBA, Smith and Nicholson are best suited to play the five as well, though both players can handle minutes at the power forward position.
Nicholson is an especially intriguing addition — he's a bruiser down in the paint with an arsenal of post moves, whose game fits nicely with both Mahinmi and Gortat. I envision him getting some playing time alongside Markieff Morris as well. Washington's frontcourt is crowded, especially with Otto Porter splitting time at the four with Morris. The Wizards' depth affords them the ability to deal Gortat for a guard or wing, but the league is jam-packed with non-shooting big men, so finding a suitor will be tricky.
Depth in the backcourt is another story. The team signed Tomas Satoransky  and traded for Trey Burke, yet neither option is proven. Burke didn't live up to expectations in Utah, so the Wizards will be banking on an improvement from the 23-year-old. His development, along with Satoransky's transition to the league, could be key to the team's success this season.
Washington also brought in Marcus Thornton to round out the guard rotation and he should see significant minutes off the bench. The lack of quality perimeter options on the second unit is alarming for a team that has injury concerns with both of its starting guards.
Bradley Beal is fresh off landing a five-year, maximum salary contract, and the Wizards will need him to stay on the court if they're going to climb the standings in the Eastern Conference. Beal has missed 81 regular season games over the first four years of his career and prior to him signing his lucrative new deal, there was talk that he could be under minute restrictions for the rest of his career due to health concerns. Meanwhile, John Wall underwent multiple knee surgeries over the summer, though he looked sharp in limited minutes during the preseason. If either player misses significant time this season, Washington will struggle to stay in the playoff race.
The Wizards underperformed last season, failing to make the playoffs and notching only 41 wins. This year, they'll have an opportunity to steal the division crown, since every team in the Southeast is undergoing some degree of transformation: Miami will begin the season without any member of The Heatles for the first time since the 2002/03 campaign; the Hawks will attempt to shoehorn Dwight Howard into their pace-and-space system; the Magic bolstered their frontcourt, but it remains to be seen how the new arrivals will mesh; and the Hornets enjoyed career years from several key players last season, which resulted in them losing a few of their valuable reserves in free agency.
The Southeast division will be up for grabs and while the Wizards didn't land a top free agent during the offseason, a top seed in the Eastern Conference standings is within their reach.
Salary information from Basketball Insiders used in the creation of this post. Photo courtesy of USA Today Sports Images.