11:13pm: The Thunder have formally announced their new deal with Adams, issuing a press release confirming the news.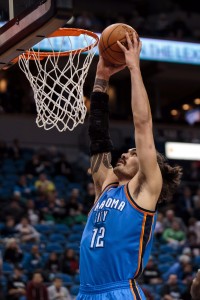 3:49pm: Adams and OKC are in the process of finalizing a four-year, $100MM extension, Wojnarowski tweets.
1:55pm: The Thunder and center Steven Adams are making "significant progress" in discussions on a potential contract extension, reports Adrian Wojnarowski of The Vertical. According to Wojnarowski, the two sides are working toward a possible four-year, $100MM deal.
Adams is one of many 2013 first-round picks who remains eligible for a rookie-scale extension until the end of Monday. Teams have until midnight eastern time to lock up extension-eligible players to new deals — if the two sides can't agree to terms, those players will remain on track for restricted free agency in the summer of 2017.
Adams, 23, averaged a modest 8.0 PPG to go along with 6.7 RPG, 1.1 BPG, and a .613 FG% during the 2015/16 season. Those numbers aren't eye-popping, and his career .551 FT% is a cause for some concern. However, Adams' showing in the postseason provided a better picture of his importance to the Thunder.
In 18 playoff games, the New Zealand native saw his minutes per game increase from 25.2 to 30.7, and he nearly averaged a double-double in those contests, with 10.1 PPG and 9.5 RPG. In the team's first three games this season, Adams has notched 13.0 PPG and 9.0 RPG in an expanded role.
When I explored Adams' extension candidacy back in August, I suggested the Thunder might want to wait until next summer in order to maximize their potential cap room. Signing Adams to a new deal now would mean his salary would hit the team's 2017/18 books immediately after the July moratorium ends next summer. By waiting to extend him, Oklahoma City would initially carry a smaller cap hold, allowing the club a little more flexibility to pursue free agents or trade targets.
Still, waiting until next July to lock up Adams would almost certainly mean giving him a max deal, since there'd likely be other suitors ready to make such an offer. A four-year, $100MM pact would come in a little below the max based on current cap projections, which could motivate the Thunder to work something out sooner rather than later. Giannis Antetokounmpo signed a four-year, $100MM rookie-scale extension with the Bucks earlier this year.
In addition to Adams, Victor Oladipo and Andre Roberson are also eligible for extensions for the Thunder.
Photo courtesy of USA Today Sports Images.