11:12pm: The Thunder have officially signed Oladipo to an extension, the team announced today in a press release.
2:52pm: The Thunder have agreed to a four-year extension with Victor Oladipo in advance of tonight's deadline, according to Shams Charania of The Vertical. Oladipo's new deal, which will go into effect in 2017/18, is expected to be worth $84MM, per Charania.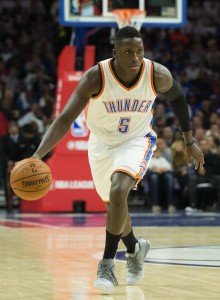 [RELATED: Thunder, Steven Adams making significant progress in extension talks]
A former second overall pick out of Indiana, Oladipo was part of the trade that sent to Serge Ibaka to Orlando in June, heading to Oklahoma City in the deal along with Domantas Sabonis and Ersan Ilyasova. Reports in the summer suggested that Oladipo might be seeking a maximum-salary contract, but the Thunder were able to lock him up at a lower rate, ensuring that he'll stay off the free agent market next summer.
Oladipo, 24, was one of the primary scorers for the Magic during his three years with the team, averaging 15.9 PPG, 4.3 RPG, 4.0 APG, and 1.6 SPG in 224 regular-season contests. In his first three games with the Thunder, he has averaged 17.0 PPG on a FG% of just .340, though that's obviously a very small sample size.
The Thunder completed their acquisition of Oladipo before Kevin Durant finalized his decision to leave Oklahoma City for Golden State, and the team had viewed the former Magic guard as a nice fit alongside Durant. However, the club remains optimistic about its backcourt duo of Oladipo and Russell Westbrook, who each provide plenty of tenacity and energy on both sides of the ball. Westbook received an extension from the Thunder this offseason as well, so the two standout guards will be given every opportunity to thrive together for the next couple years.
With Oladipo secured, the Thunder can shift their focus today to Steven Adams and Andre Roberson, who are also eligible to sign rookie-scale extension before the deadline of midnight eastern time. As we learned earlier today, OKC is in talks with Adams on a potential four-year, $100MM extension, and there's growing optimism that the two sides can hammer out a deal. The team is also engaged in negotiations with Roberson, per Adrian Wojnarowski of The Vertical.
Teams can be reluctant to lock up their potential restricted free agents to big-money extensions ahead of free agency, since keeping a modestly-priced cap hold on their books for a week or two the following July can give them additional flexibility to use cap room in free agency. However, as a former No. 2 overall pick, Oladipo would have had a large cap hold next summer as a restricted free agent, so his deal shouldn't hinder OKC's flexibility significantly.
Photo courtesy of USA Today Sports Images.