10:03am: Motiejunas has agreed to a new contract with Houston, tweets Adrian Wojnarowski of The Vertical. The deal will pay him $35MM over four years (Twitter link), but bonuses could push the value to $37MM, which is identical to the Nets' offer sheet (Twitter link). Motiejunas will make a fully guaranteed $8.3MM this season, and the Rockets will have a team option on the rest of the deal each July for the next three years (Twitter link).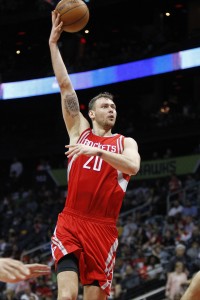 Also, the trade restrictions that would have come with a matched offer sheet are gone. Motiejunas can now be traded as soon as the season ends and does not have to give his consent to any deal, tweets The Vertical's Bobby Marks. Motiejunas still must pass a physical before returning to the team (Twitter link). He was limited to 37 games because of back problems last season, but is reportedly healthy now.
9:21am: The Rockets are working on a new contract with Donatas Motiejunas, tweets ESPN's Marc Stein. The team has pulled an offer sheet that it matched from Brooklyn, and the parties are trying to come up with mutually acceptable terms.
Motiejunas' status has been in limbo since become a restricted free agent July 1st. He waited through the entire offseason and the first six weeks of the regular season without receiving an offer, then agreed to a four-year, $37MM contract with the Nets last week.
The Rockets announced on Monday that they were matching the deal, but excluded $6MM in incentives that the Nets offered. Motiejunas failed to show up for a team physical in the wake of his decision, with his agent, B.J. Armstrong, saying the 26-year-old forward wouldn't report until the dispute over incentives was resolved. The Rockets responded by declaring that they wouldn't withdraw their first refusal exercise notice, which would have made Motiejunas a restricted free agent again.
Houston's front office had been hoping to get the Motiejunas situation resolved before November 23rd, which was three months before the trade deadline. If the team does work out a new contract with Motiejunas, it will have to hold onto him for at least the rest of the season. After March 1st, NBA rules prohibit Motiejunas from signing with another organization through the end of the season, even if the Rockets were to allow him back on the market.
It appears from this morning's news that both sides have decided it is in their best interest not to prolong the situation much further, and Calvin Watkins of ESPN tweets that Brooklyn's offer sheet should help with negotiations because there are now parameters to work with.
Photo courtesy of USA Today Sports Images.