1:18pm: The Hornets issued a press release confirming their acquisition of Andersen, and announcing that they've already waived the injured center.
11:18am: The second-round pick Cleveland gets in the deal is top-55 protected for 2017, a league source tells Dave McMenamin of ESPN.com (Twitter link). Based on the Hornets' current record, there's virtually zero chance of that pick changing hands, as expected.
11:04am: The Cavaliers have opened up a spot on their 15-man roster by making a trade with the Hornets, the team announced today in a press release. According to the Cavs, Cleveland is sending injured big man Chris Andersen and cash to Charlotte in exchange for a protected second-round pick.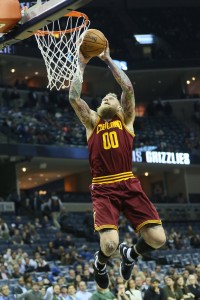 Although the Cavs are receiving a second-round pick in the swap, that selection will likely be a heavily-protected pick that never actually changes hands. Andersen has no value this season, since he's out for the year with a torn ACL, so Charlotte is doing the Cavs a favor by taking him off their hands. In return, the Hornets will likely get more than enough cash to cover Andersen's remaining salary, so they'll come out ahead in the transaction.
While Cleveland will probably never receive that protected second-round pick, the team had been motivated to move Andersen. By sending the Birdman's contract elsewhere, the Cavs will ensure that they don't have to pay an extra tax charge for him at season's end. The club is currently so far into tax territory that every dollar spent results in an extra $2.50 tax charge — that means Andersen's $980K minimum salary would have cost more than $2.4MM in tax payments. By trading him, the Cavs reduce their tax bill and create an opportunity to add someone new to fill that newly-opened 15th roster spot in the coming days or weeks.
Cleveland had previously sent out $2.75MM in cash in a few separate trades, and teams are limited to $3.5MM in outgoing cash for the 2016/17 league year. It wouldn't be a surprise if the Cavs sent out the rest of their available trade money ($750K) in this deal, though the specifics aren't yet known. The Cavs will also create a modest trade exception in the swap, worth Andersen's cap hit ($980,431). It will expire a year from today.
Charlotte, meanwhile, had an open roster spot after Ray McCallum and Mike Tobey saw their 10-day contracts expire overnight. McCallum already re-signed with the team, but Tobey hasn't formally inked a new deal yet. The Hornets will likely waive Andersen shortly in order to make room to re-sign Tobey.
Photo courtesy of USA Today Sports Images.