With the 2016/17 NBA regular season in the books, we're making our picks for the year's major awards. The Hoops Rumors writing team has weighed in with our selections below, but we also want to know which players, coaches, and executives you think are most deserving of the hardware this season, so jump into the comments section below to share your thoughts.
We're keeping things going today with the award for Defensive Player of the Year. Here are our picks:
Arthur Hill: Rudy Gobert (Jazz)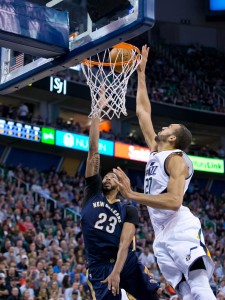 Gobert is the league's greatest shot-blocking force, averaging 2.6 per night, but he also has more mobility to cover pick-and-rolls than a traditional big man. He is the centerpiece of a Utah defense that is eight points better (per 100 possessions) when he is in the game. The Jazz were able to overcome a long string of injuries to win the Northwest title, and Gobert's presence in the paint was a major reason why.
Austin Kent: Rudy Gobert (Jazz)
There are a number of defensive metrics that tilt the Defensive Player of the Year conversation in Gobert's direction, but the fact that his emergence as the unquestioned anchor of Utah's defense corresponded perfectly with the Jazz emerging as a borderline elite team is what does it for me. It doesn't matter what defensive schemes the Jazz run; it doesn't even matter what team he suits up for; pick any randomly conceived set of circumstances, add a healthy Gobert in the middle, and suddenly life is impossibly hard for the 29 other teams in the league.
While you could trot out various numbers for a handful of solid candidates when debating who should win this award, I'll take Gobert's league-leading defensive win share mark and his 2.6 blocks per game. Imagine what that BPG mark would look like if opponents didn't start game planning ways of avoiding the 7'1″ game-changer the second they saw the Jazz on their team schedule.
Chris Crouse: Draymond Green (Warriors)
What Green does on the floor is truly remarkable. There isn't a position he can't guard and you could compile an instructional coaching video purely off his help defense. Gobert is the best rim protector in the league, but Draymond's ability to disrupt the opposition's offense at any given spot on the floor is what makes him this season's Defensive Player of the Year.
Dana Gauruder: Rudy Gobert (Jazz)
Utah defended the two-point shot better than any other team, mainly because it had the league's top shot blocker anchoring the paint. Green and Kawhi Leonard are also worthy candidates, but the Jazz improved dramatically this season and a healthy Gobert (until the postseason) was a major factor.
Luke Adams: Draymond Green (Warriors)
I've gone back and forth between Green and Gobert, and the Jazz center is certainly a worthy choice. However, after the Warriors appeared to take a major step backwards last offseason in terms of interior defense by replacing rim-protecting rotation players like Andrew Bogut and Festus Ezeli with Zaza Pachulia and David West, Green's play this season helped ensure that rim protection wasn't an issue for Golden State after all. Green's versatility – including his ability to switch onto virtually any player – gives him the slightest edge over Gobert and his interior dominance.
Who is your pick for Defensive Player of the Year? Share your choices and your thoughts in the comments section below!
Previously:
April 13: Executive of the Year
April 14: Coach of the Year
April 17: Most Improved Player
April 18: Sixth Man of the Year
Still to come:
April 20: Rookie of the Year
April 21: Most Valuable Player

Photo courtesy of USA Today Sports Images.