With the 2016/17 NBA regular season in the books, we're making our picks for the year's major awards. The Hoops Rumors writing team has weighed in with our selections below, but we also want to know which players, coaches, and executives you think are most deserving of the hardware this season, so jump into the comments section below to share your thoughts.
We're keeping things going today with the award for Rookie of the Year. Here are our picks:
Chris Crouse: Malcolm Brogdon (Bucks)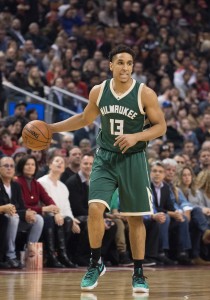 As a Philadelphia resident, I wanted to go with Joel Embiid. He's clearly the most talented player in the rookie class and he was running away with this award while only playing half of the Sixers' back-to-backs. However, a knee injury ended his season, limiting the big man to only 31 games and a total of 786 minutes. How many minutes would have been enough to win the award? 1,000? 1,500? I'm not sure, but part of being considered the best of the year is being available and the Cameroon native wasn't.
Brogdon was there for a Milwaukee team that needed a contributor. He gave coach Jason Kidd a solid defender and a player who could be counted on. Dario Saric had a slightly higher scoring average, but he wasn't nearly as efficient as the Virginia product and he didn't help to elevate his team as Brogdon did with the Bucks. Brogdon's 4.1 Win Shares is by far tops among all rookies (Willy Hernangomez was the only other rookie above 3.0). Despite having two local candidates, I can't argue with The President's numbers; he gets my vote.
Austin Kent: Joel Embiid (Sixers)
The efficiency and off-court high jinks are just two components of what makes Joel Embiid so special. A third component – and in my opinion the most important one – is the immediate impact he had on a Sixers culture that was so deep in the basement they may as well have been relegated to the D-League. Embiid stepped on the court in October and changed all that overnight. This isn't a byproduct of desperation, wishful thinking, or confirmation bias — nobody here had anything resembling high hopes for the man who seemed easily more myth than reality, a borderline punchline before he'd even set foot on the court.
I like that Brogdon is a contributing role player on a playoff team and that Saric proved he can fill the stat sheet when half the Philly roster is away on sabbatical, but to me the Rookie of the Year award serves as a way of flagging the most exciting of the league's latest batch of fresh faces. I'm not going to hold the fact that a company with no rational incentive to start risking a years-long process chose to play it safe and shut its best asset down prematurely.
Dana Gauruder: Malcolm Brogdon (Bucks)
If Embiid had played at least half the Sixers' games, this would be a no-brainer. Saric put up good numbers on a bad team. Brogdon was a huge surprise, contributing right away and helping the Bucks get through the first half of the season without Khris Middleton.
Arthur Hill: Joel Embiid (Sixers)
The only argument to make against Embiid winning the award is that a cautious Sixers medical staff limited him to 31 games. Otherwise, he was the best scorer, rebounder, shot blocker and overall defender in his rookie class. Embiid's numbers – 20.2 points, 7.8 rebounds and 2.5 blocked shots per game – tower over the field before taking into account that they were achieved on a minutes restriction. Adjust those on a 36-minute basis and they become 28.7, 11.1 and 3.5 — good enough to be considered for MVP, not just Rookie of the Year. Although it would be unprecedented to give a trophy to someone who played less than half a season, I'll take 31 games of excellence over anyone else in the field.
Luke Adams: Malcolm Brogdon (Bucks)
A first-half Rookie of the Year award for Embiid and a second-half trophy for Saric would probably make the most sense, but since Rookie of the Year is a full-season award, Brogdon's consistency and durability give him the edge. While he may not turn into as impressive a pro down the road as Embiid or Saric, Brogdon's ability to step into a regular rotation role for a playoff team and hold his own (10.2 PPG, 4.2 APG, 1.1 SPG, .404 3PT%) makes him a worthy – albeit not particularly flashy – Rookie of the Year winner.
Who is your pick for Rookie of the Year? Share your choices and your thoughts in the comments section below!
Previously:
April 13: Executive of the Year
April 14: Coach of the Year
April 17: Most Improved Player
April 18: Sixth Man of the Year
April 19: Defensive Player of the Year
Still to come:
April 21: Most Valuable Player

Photo courtesy of USA Today Sports Images.