2:08pm: Tim Hardaway Jr. is now officially a Knick, as Hardaway's agent, Mark Bartelstein, says that Atlanta has officially not matched, per Marc Berman of The New York Post (link via Twitter).
1:45pm: The Hawks have informed the Knicks that they will not match New York's offer sheet on Tim Hardaway Jr., reports Shams Charania of The Vertical (link via Twitter).
11:27am: The Hawks don't intend to match the Knicks' four-year, $71MM offer sheet for Tim Hardaway Jr., reports Adrian Wojnarowski of ESPN. As Wojnarowski notes, the formal deadline for Atlanta to make its decision is still hours away, but Hardaway will ultimately be a Knick — again.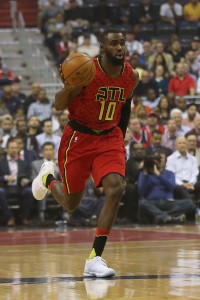 [RELATED: Knicks sign Tim Hardaway Jr. to offer sheet]
Hardaway, 25, enjoyed the best season of his NBA career in 2016/17, averaging 14.5 PPG, 2.8 RPG, and 2.3 APG in 79 games (30 starts) for the Hawks. He also posted a career-best FG% (.455) and had a .357 3PT%, and was even better after the All-Star break, with 17.5 PPG in 25 contests.
While Hardaway's production was solid and he still has room to improve, the Knicks' $71MM offer – which came at a time when most teams didn't have much cap room available – was a surprise. The Hawks were reportedly willing to do a deal in the four-year, $48MM range for Hardaway, but decided not to match a Knicks offer that would hamper their cap flexibility more significantly. Atlanta will have room left over to pursue another RFA or accommodate another salary dump.
In addition to averaging nearly $18MM annually, the Knicks' deal with Hardaway includes a fourth-year player option and a 15% trade bonus, according to previous reports. The agreement also calls for the shooting guard to receive 50% of his annual salary by October 1 each year.
With Hardaway in the mix, the Knicks will have little – if any – cap room available to spend on other free agents, though the club will still have its $4.3MM room exception. New York also had to renounce its rights to Derrick Rose, among other free agents, in order to clear the space necessary for Hardaway. That all but rules out the possibility of a reunion between Rose and the Knicks, since the team no longer holds his Bird rights.
Hardaway was originally drafted by New York with the No. 24 pick in the 2013 draft. The Knicks traded him to the Hawks in a 2015 draft night trade that netted them Jerian Grant. Grant was traded to the Bulls during the following offseason as part of a package that brought Rose to the Big Apple.
As Marc Berman of the New York Post wrote earlier today, the Knicks' brain trust views Hardaway as part of a long-term 'core four' for the franchise, alongside Kristaps Porzingis, Willy Hernangomez, and Frank Ntilikina.
Photo courtesy of USA Today Sports Images.