JULY 10th, 4:13pm: The Kings have officially announced the Hill signing via press release. The three-year deal, $57MM contract is guaranteed for $40MM, according to Amick (Twitter link).
JULY 4th, 3:47pm: The third year of Hill's deal will be partially guaranteed, tweets Sam Amick of USA Today.
12:32pm: The Kings and free agent point guard George Hill have reached an agreement on a three-year, $57MM contract, reports Shams Charania of The Vertical.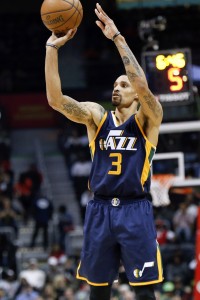 Although injuries limited Hill to 49 games in 2016/17, he was excellent when he played, comfortably establishing a new career high in PPG (16.9) for the Jazz despite averaging fewer minutes per game than he had with the Pacers. The 31-year-old provided solid defense and shot over 40% from downtown for a second straight season. In Sacramento, he'll act as a veteran mentor to the team's new point guard, De'Aaron Fox, and his ability to play off the ball should allow both guards to share the court at times.
Hill reportedly received interest from the Lakers, Nuggets, Timberwolves, Pacers, Knicks, and Spurs, among other teams. However, many of those teams didn't have the cap flexibility to make him the sort of offer he has now received from the Kings, and some clubs – such as the Lakers – may have not been willing to go up to three years.
Hill's former team, the Jazz, wasn't viewed as a serious contender for the veteran point guard after the team acquired Ricky Rubio from the Timberwolves last week. At least one report suggested that losing Hill may adversely affect Utah's chances of retaining Gordon Hayward, but Hayward reportedly likes the idea of playing with Rubio as well, so Hill's formal departure may not have a major impact on his decision.
Word of Sacramento's agreement with Hill broke around the same time that it was reported the team would also sign Zach Randolph to a two-year pact worth $24MM. The Kings entered the free agent period with only about $44MM in commitments on their 2017/18 cap for their incumbent players and their three 2017 first-round picks.
However, with deals now in place for Hill, Randolph, and Bogdan Bogdanovic, the Kings appear to no longer have room for a reported max offer for Otto Porter unless they're able to shed a contract or two. That could bode well for Porter's return to the Wizards, perhaps at a more reasonable rate than Washington anticipated, though the Nets continue to lurk and could put a big offer sheet on the table.
The terms on Hill's new three-year, $57MM deal are identical to the reported terms on Jeff Teague's agreement with the Timberwolves, so that deal likely served as a reference point during discussions between the Kings and Hill's camp.
Photo courtesy of USA Today Sports Images.