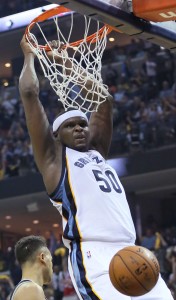 JULY 10th, 5:58pm: The signing is official, according to a team press release.
JULY 4th, 12:26pm: The Kings will sign Zach Randolph to a two-year, $24MM deal, tweets Adrian Wojnarowski of ESPN.com. Both seasons are fully guaranteed, according to David Aldridge of TNT (Twitter link).
Randolph, who will turn 36 later this month, spent the past eight years in Memphis. His role with the Grizzlies was diminished this season as he lost his starting job and saw his playing time reduced to about 24 minutes per night.
The Cavaliers had also been linked to Randolph and were reported to be greatly interested in adding the bruising power forward. However, Cleveland is well over the cap and couldn't have offered nearly as much as Sacramento did.
Today's signings of Randolph and George Hill leave the Kings with $25.3MM in cap space, posts Bobby Marks on ESPN Now. That will be cut further by the upcoming addition of Bogdan Bogdanovic, who is expected to get $27MM over three years. That doesn't leave enough for a reported max offer to Otto Porter, so the Kings may have decided to move in a different direction.
In addition to what he provides on the court, Randolph can serve as a mentor to the Kings' young big men, Willie Cauley-Stein, Georgios Papagiannis and Skal Labissiere. For Memphis, it's the latest move away from their grit-and-grind tradition as veteran guard Tony Allen is also considered unlikely to return.
Sacramento will be the fifth franchise for Randolph, a 16-year veteran who started his career with the Trail Blazers and had brief stints with the Knicks and Clippers.