JULY 13, 12:38pm: The Nuggets have officially signed Millsap, the team announced today (via Twitter).
JULY 3, 10:05am: Millsap's third year will be a team option, Nick Kosmider of The Denver Post confirms. We'll have to wait for Millsap to officially sign to see whether it's a true team option, or whether that third year will just be non-guaranteed (perhaps with a buyout attached).
JULY 2, 10:00pm: The Nuggets have reached a deal with Paul Millsap, Shams Charania of The Vertical tweets. The agreement is said to be for three years and $90MM. Matt Moore of CBS Sports suggests (via Twitter) that the third year is a team option, which would be a coup for the Nuggets, though that hasn't yet been confirmed.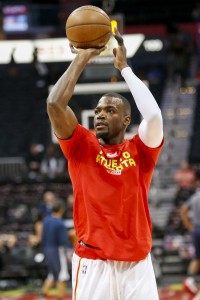 [RELATED: 2017 NBA Free Agent Tracker]
Millsap entered free agency as one of the most talented players available and will join a Nuggets squad currently anchored by promising youngsters Nikola Jokic, Gary Harris and Jamal Murray.
In Millsap, the suddenly dangerous Nuggets will add a reliable veteran on the heels of four consecutive All-Star seasons. In 2016/17, the 32-year-old averaged a career high 18.1 points to go along with 7.7 rebounds and over a three-pointer per game. He ranked fifth on our list of 2017's top 50 free agents.
Prior to committing to the Nuggets, Millsap had engaged in talks with the Kings and Suns, according to Charania in his full report for The Vertical. Charania suggests that the forward was ultimately intrigued by the young core that the Nuggets have assembled. The Timberwolves also reportedly had interest in Millsap, but would have needed to move contracts to create space for him, and opted instead to sign Taj Gibson to a more affordable deal.
Millsap's move to Denver makes him the latest Eastern Conference star to head west. Three of this year's Eastern All-Stars have joined Western Conference clubs in the last couple weeks, with Jimmy Butler traded to Minnesota and Paul George landing in Oklahoma City.
The Nuggets had attempted to make a splash in the free agent market a year ago, meeting with Dwyane Wade and making a strong pitch to the veteran guard. While Denver struck out in 2016, the team got its man this time around, and the timing is good for the franchise — Gary Harris is extension-eligible this offseason, and Nikola Jokic may be a restricted free agent next summer, so the window to sign a max free agent may have closed quickly. Millsap had been on Denver's radar for some time, with reports suggesting the team was close to trading for him last offseason and prior to the 2017 trade deadline.
As for the impact Millsap will have on Denver's free agency plans this summer, it looks as if the Nuggets still have enough room for Mason Plumlee's qualifying offer after their commitment to Millsap, which will allow the team to match any offers for Plumlee.
However, the club seems likely to renounce Danilo Gallinari's cap hold to fit in Millsap, which would eliminate the possibility of a new deal in Denver for the longtime Nugget. Of course, during the moratorium, discussions are always fluid, so it's possible Denver could make trades to clear other contracts and maintain Gallinari's cap hold.
As things stand right now, Millsap's deal will eat up most of the rest of the Nuggets' cap room, but the club will still have a little space, and will be able to use its $4.3MM room exception once that space is used.
Meanwhile, the Hawks will have a new-look frontcourt under new GM Travis Schlenk, who also traded Dwight Howard last week. Atlanta will lose a key big man in free agency for the second offseason in a row, with Millsap departing a year after Al Horford left for Boston. Still, Schlenk never sounded overly enthusiastic about making an aggressive offer for Millsap, and letting him walk will leave the team with more than $30MM in cap room to use elsewhere.
Photo courtesy of USA Today Sports Images. Luke Adams contributed to this post.