JULY 6, 10:29am: The Rockets have jumped the gun a little on the end of the July moratorium, issuing a press release announcing Tucker's signing about a half-hour before the moratorium ends.
JULY 1, 11:52pm: The Rockets are expected to sign Tucker using their mid-level exception, tweets Jonathan Feigen of The Houston Chronicle. Assuming the team uses part of its MLE on Zhou (as noted below) and offers the rest to Tucker, the veteran's contract could be worth up to about $32.6MM.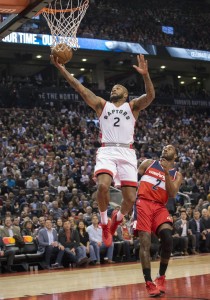 11:36pm: The Rockets have reached a deal with free agent forward P.J. Tucker, according to Shams Charania of The Vertical (via Twitter). Tucker had met with the Raptors when free agency opened, and had a sit-down with the Kings scheduled for Sunday, but it appears that meeting will be canceled now that Tucker has committed to Houston on a four-year, $32MM deal, per Charania (Twitter link).
Tucker, who started the 2016/17 season in Phoenix, was traded to the Raptors in a deadline deal and was a key piece for a Toronto team that was eliminated in the Eastern Conference semifinals. For the season, Tucker averaged a modest 6.7 PPG, 5.8 RPG, and 1.4 SPG in 81 games (27.6 MPG), providing value with his tough defense and his ability to make the occasional three-pointer (.357 3PT%).
The Rockets had been on the lookout for a defensive-minded wing who could complement the team's backcourt of James Harden and newly-acquired Chris Paul. Houston reportedly made an offer to Andre Iguodala today, but Iguodala elected to remain in Golden State. The Rockets were also said to be in serious talks with the Cavaliers for Iman Shumpert, though it's possible their deal with Tucker could make the Rockets pump the brakes on those Shumpert discussions.
[RELATED: Clippers trade Chris Paul to Rockets]
Based on the reported terms of the Tucker deal, the Rockets may be committing the rest of their mid-level exception to the 32-year-old after agreeing to sign Zhou Qi using part of it. However, there are multiple ways Houston could complete the deal. A sign-and-trade is another possibility, if the Rockets don't need to use their non-guaranteed contracts in a Shumpert trade with Cleveland. A Tucker sign-and-trade could – in theory – create a trade exception for Toronto and would allow the Rockets to retain most of their MLE.
A report earlier today suggested that the Raptors weren't overly confident about their chances of retaining Tucker, but remained optimistic about bringing back Kyle Lowry and Serge Ibaka.
Photo courtesy of USA Today Sports Images.