Nerlens Noel has signed a one-year, $4.2MM qualifying offer to return to the Mavericks, Chris Haynes of ESPN tweets. Having failed to find a long-term off he liked in restricted free agency, the big man is now on track to become an unrestricted free agent in 2018.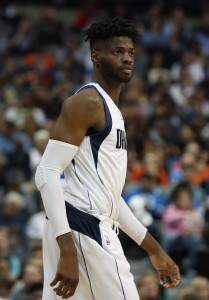 On Wednesday, it was reported that Noel turned down a Mavs offer in the range of $17.5MM per year. Haynes suggests that Noel's reported $17MM+ offer was non-existent in any form, but Adrian Wojnarowski of ESPN tweets that, according to sources, the RFA did turn down a four-year, $70MM offer made on July 1. Tim McMahon of ESPN clarifies (link via Twitter) that Noel asked the Mavs for a max contract and then the four-year offer was pulled soon thereafter.
Noel appeared in 22 games for the Mavs after being traded from the 76ers, starting 12 of them and playing 22.0 MPG. In his three-season NBA career, the Kentucky product is averaging 10.0 PPG, 7.5 RPG, 1.6 SPG, and 1.5 BPG. Although he's mainly known for his defensive prowess, Noel's career FG% is 51.1%.
While Noel accepting a one-year deal worth $4.188MM is somewhat surprising, there simply weren't many teams left with cap room this year that could have given him a realistic offer sheet — currently, no club has more cap room than the Sixers, who weren't about to make a bid to bring back the former lottery pick.
Earlier this week, on August 21, Noel switched agents from Happy Walters to Rich Paul. Paul didn't have much to do for Noel this summer, but he'll be tasked with negotiating the young center's next deal in 2018.
Noel will have more freedom when he reaches the open market next season, though he won't necessarily be guaranteed a massive payday — cap space isn't expected to be quite as abundant around the NBA in 2018 as it has been the last two summers.
Having accepted his qualifying offer, Noel now must consent to any trade if the Mavs look to deal him this year. If he agrees to be traded, he would surrender his Bird rights, as Bobby Marks of ESPN notes (link via Twitter).
With today's signing, Noel becomes the first restricted free agent to sign a qualifying offer since 2015 when Norris Cole and Matthew Dellavedova both did so. Greg Monroe is the most notable restricted free agent to sign a qualifying offer in recent years, having done so in 2014. Four 2017 RFAs now remain unsigned: Mason Plumlee (Nuggets), Nikola Mirotic (Bulls), JaMychal Green (Grizzlies), and Alex Len (Suns).
Luke Adams contributed to this post. Photo courtesy of USA Today Sports Images.