OCTOBER 14, 9:50am: The trade is now official, according to a press release issued by the Hawks. As detailed below, Atlanta receives Jefferson, Felder, cash ($3MM), and second-round picks in 2019 and 2020 in exchange for the rights to Agravanis and Gladyr.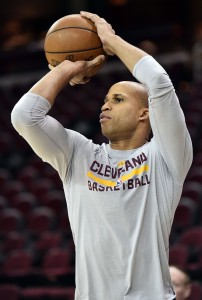 Interestingly, the 2020 second-rounder is Portland's pick. The protection on that selection is 31-55, meaning there's a good chance it won't actually change hands.
OCTOBER 13, 5:37pm: A Wojnarowski report at ESPN clarifies that the 2019 pick heading to Atlanta will be the lesser of the Timberwolves' and Lakers' picks that had been owed to Cleveland.
The Hawks will also receive $3MM in the deal, which is agreed upon in principle. That cash will cover Jefferson's full salary and Felder's partial guarantee.
4:57pm: The Cavaliers and Hawks are in advanced talks on a deal that would send Richard Jefferson and Kay Felder to Atlanta, Shams Charania of The Vertical reports.
Per Adrian Wojnarowski of ESPN, also involved in the deal will be the draft rights to a European player (Cleveland-bound), a pair of future second-round picks (Atlanta-bound) and cash (also heading to Atlanta).
Although the deal has not been finalized, Sam Amick of USA Today has tweeted that it will be Dimitrios Agravanis and Sergiy Gladyr in particular that will be heading to Ohio. Agravanis was the No. 59 pick in 2015, Gladyr the No. 49 pick in 2009.
Amick also tweets that the second-round picks going from Cleveland to Atlanta will be a 2019 pick and a 2020 pick. The Cavs have previously traded their own second-rounders in both years, but have acquired extra picks that they'll use in this deal.
Per Wojnarowski, the Hawks plan to waive Jefferson and likely Felder too. Chris Mannix of The Vertical tweets that Jefferson has no plans to retire, but the 37-year-old will be ineligible to re-sign with Cleveland this season if he's waived by Atlanta.
The Cavs have been hard-pressed to unload a guaranteed contract ever since they signed Dwyane Wade after his buyout from the Bulls. Shedding both Jefferson and Felder will bump the team down to 15 guaranteed deals and, according to Bobby Marks of ESPN, save the franchise as much as $12.8MM in luxury tax penalties.
Also, as Marks notes, the deal will create a pair of trade exceptions for Cleveland, one worth $2.6MM and another worth $1.4MM.
The Hawks can get to $4.9MM under the cap, enough to eat both Jefferson and Felder's deals. While the two are signed to modest contracts, they both include guarantees — Jefferson's is a full guarantee, while Felder's is only partial.
In summary, Atlanta took advantage of available cap space and managed to procure a pair of second-round picks simply by eating two relatively minor contracts. Those additional draft choices will bode the franchise well as it embarks on its rebuild.
Photo courtesy of USA Today Sports Images.